KUALA LUMPUR, 31 May 2021 – After a legendary battle at the playoffs, Yoodo RSG MLBB – the Mobile Legends: Bang Bang team backed by Yoodo, Malaysia's first truly customisable and 100% digital mobile service, are the proud champions of Moonton's Mobile Legends: Bang Bang MPL Malaysia Season 7 (MPL S7). The team walked away with the lion's share of the USD 100,000 prize pool as well as a spot at the upcoming Mobile Legends: Bang Bang Southeast Asia Cup.
Chow Tuck Mun, Head of Yoodo, couldn't be prouder of the team's achievement. "On behalf of Yoodo, congratulations to the entire team! Their hard work and persistence have paid off and lifted them to great heights. The team has surpassed our expectations and we're excited to see what else they can achieve in the future."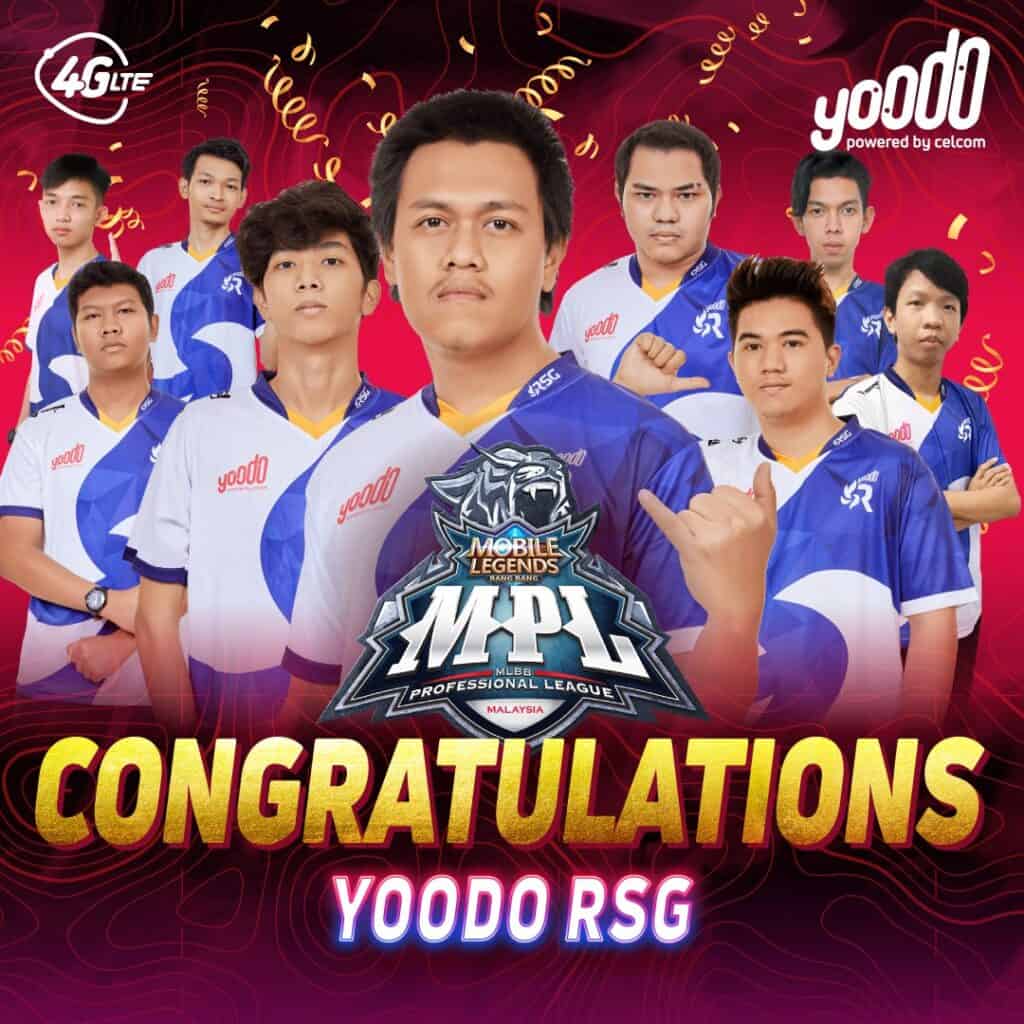 The team, which consists of Rush (Herwin Baharuddin), Logan (Abdul Wandi), Izanami (Mohammad Irwandy), Zacus (Ahmad Zaki Ibrahim) Leixia (Ahmad Ali Huzaifi), Zaraki (Jamil), Rush (Herwin), Kaizer (Isme Haqeem), Lolealz (Ealtond Rayner), and Syno (Mohamad Amir Afdhal), emerged victorious after beating out 9 other teams throughout the tournament.
"We are thrilled to have won our first national title together," shared team captain Rush. "We put serious work and hours into our training sessions, and it means the world to see it all culminate in a victory. MPL 2021 has been a great and exciting journey, and we can't wait to make our fans proud of us with our next venture!"
In the tournament which saw Yoodo as the Official Digital Telco, Yoodo RSG MLBB had an unbeaten streak in the playoffs. At the beginning of Grand Final match against Todak, the team were down by two games. However, they managed to turn it around to win four straight games and bring home the championship. Additionally, RSG's Lolealz was also named Most Valuable Player of the playoffs.
"This is exactly the kind of result Yoodo was gunning for when we signed on to back Yoodo RSG MLBB," Tuck Mun continued. "Yoodo strongly believes in the potential of Malaysian esports players, and the team's victory is further proof that we're on the right track. Yoodo will continue to support and shine the spotlight on these talents."
For more information, follow Yoodo at www.facebook.com/yoodoMY or visit www.yoodo.com.my.