Kuala Lumpur, 22 September 2020 – For decades, coffee has been a great pick-me-up for days when you need a little extra boost. Whether it is ridding those 3pm blues away or just enjoying a good book with a cup of Joe. For coffee lovers looking to catch a quick coffee break, WONDA Coffee is introducing its first ever mobile Speakeasy Café, where Malaysians can enjoy a hot cup of WONDA 3-in-1 Premium Coffee in a unique, modern and one-of-its kind experience. WONDA Coffee's unique mobile Speakeasy Café will be available at key high traffic locations around Klang Valley including popular shopping districts throughout the month of September and October.
"With WONDA Coffee's mobile Speakeasy Café, we wanted to redefine the cafe experience for Malaysians and bring something novel in place. So instead of just heading out to their usual coffee shop, consumers now have the chance to add a spirit of adventure to their coffee runs, where they will have to hunt for the WONDA Coffee's mobile Speakeasy Café! When they arrive at their destination, they will be pleasantly surprised with the coffee surprises that await them, after all nothing gets the mood rejuvenated than a fresh brew and good company," said Santharuban T. Sundaram, Senior Vice President of Marketing and Alternate Business from Etika.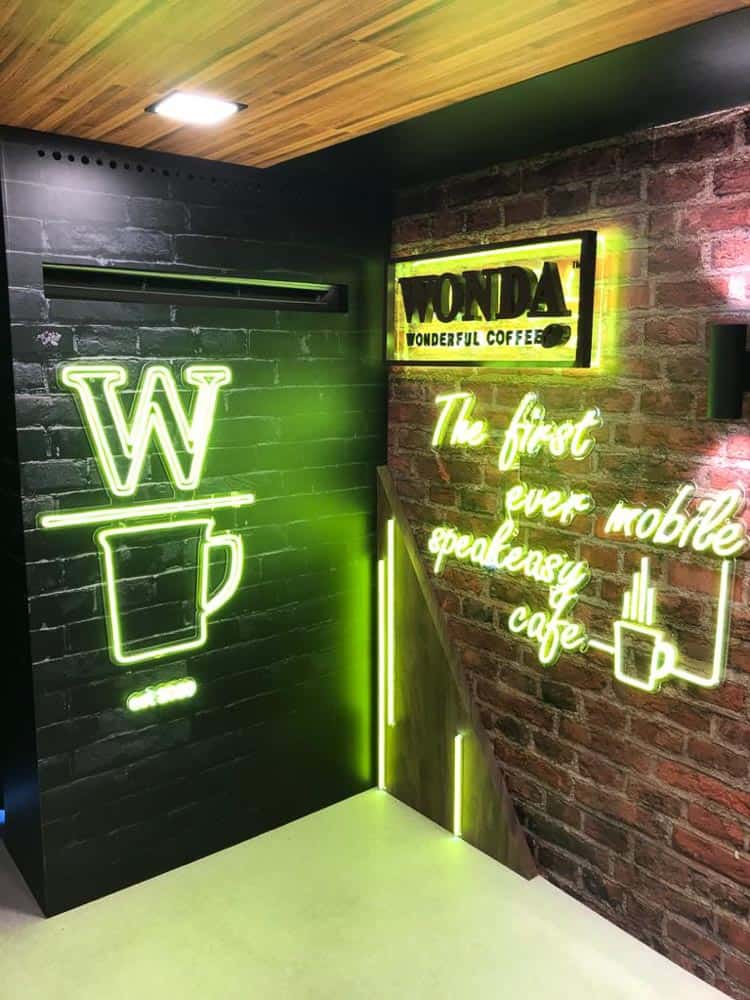 Much like the concept of a speakeasy bar, WONDA Coffee's mobile Speakeasy Café will be distinguished as an abandoned bus, but one that hides a coffee paradise within. Consumers will need to hunt for the mobile speakeasy café and partake in a mini-mission of finding the secret code to gain access, giving the café experience a more exclusive feel.
Once consumers enter the mobile speakeasy Café, they will be greeted with a free cup of WONDA 3-in-1 Premium Coffee from the baristas. Coffee lovers can relax for a couple minutes in WONDA Coffee's mobile Speakeasy Café and enjoy the coffee-soaked ethos. Done up in classy décor, WONDA Coffee's mobile Speakeasy Café also suits the millennial instagrammer with several nooks and corners for some insta-worthy shots. Keeping in mind the social distancing regulations, the mobile speakeasy café can accommodate 4 people at one time, making WONDA Coffee's mobile Speakeasy Café a coveted one-of-a-kind experience.
In current times of uncertainty, as brands struggle to put together effective consumer centric campaigns, WONDA Coffee's mobile Speakeasy Café breaks through mundane initiatives, making room for consumer interactions and sampling under one umbrella campaign. "As brands, we need to be able to communicate with consumers creatively, placing their needs at the forefront. With our WONDA Coffee's mobile Speakeasy Café concept, we are able to connect with consumers in a safe manner, get them to enjoy their favourite hot coffee while enabling them to take a break and enjoy a WONDA-ful experience," added Santharuban.

WONDA Coffee's mobile Speakeasy Café is a part of the greater International WONDA Coffee Day 2020 celebrations that also includes a contactless coffee sampling and lots of exciting rewards for coffee lovers. For more information, visit https://www.facebook.com/WondaCoffeeMalaysia.
RAMARAMA ialah portal maya dengan fokus kepada perkongsian daripada usahawan kepada usahawan dan kisah inspirasi dari individu-individu luarbiasa.
RAMARAMA is a Malaysian made lifestyle concept video magazine and online portal focusing on contemporary lifestyle and inspiring stories from extraordinary individuals.
Dimiliki oleh BlackButterfly DesignArts (Co. No: 002093315-W)
Owned by BlackButterfly DesignArts (Co. No: 002093315-W)