Alcosm™, a global brand that supplies on-the-go, top quality disinfecting products to medical facilities and individuals, is looking to hire a Wipe Ambassador for a simple task — testing the brand's alcohol wipes against all types of greasy food they can find and show that the wipes can live to their standards. Best of all, RM3,000 will be theirs to have.
As the world battles COVID-19, alcohol wipes have been elevated to a must-have item all across the globe due to it's sanitising and disinfecting ability. Scientifically, alcohol-concentrated wipes can do more than just cleaning surface areas. According to the World Health Organization (WHO), handrubs with 75% alcohol concentration can eliminate 99.9% of viruses and work great as a dirt and oil remover. Trusted by the Ministry of Health, Alcosm™ 75% Alcohol Wipes can keep Malaysians from catching any contagious diseases and keeping oily hands at bay. The disinfectant company is also on a mission to promote better hand hygiene among Malaysians (cleaning before and after meals) with the aforementioned campaign.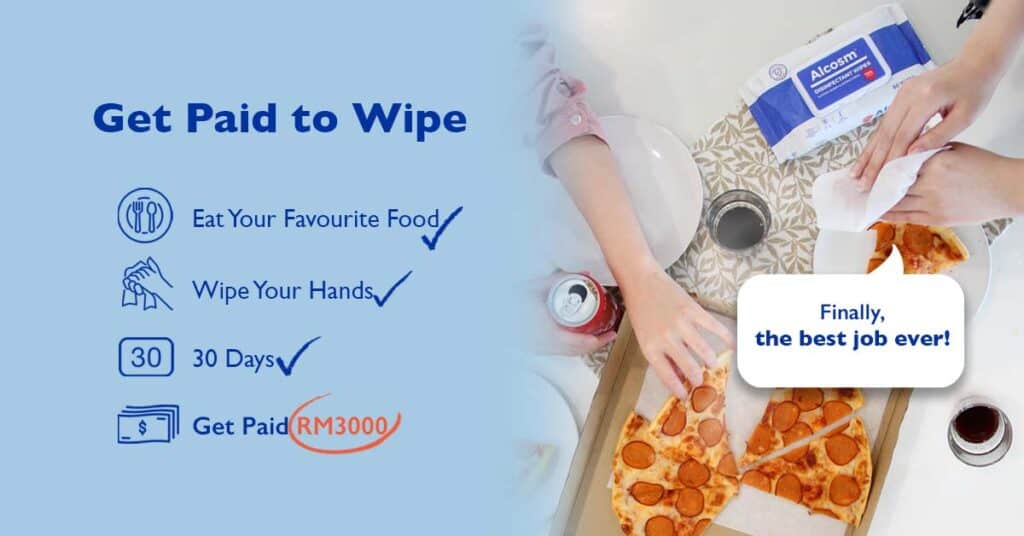 "In China, usage of alcohol wipes before and after meals is very popular. Most restaurants would provide alcohol wipes to their customers to promote good hygiene," said ZiKang Tai, co-founder of Alcosm™. "Through Alcosm™, we'd like to bring peace of mind and improve Malaysians' quality of life one sheet at a time."
Convenient and perfect for everyday use, Malaysians no longer have to deal with oily hands after meals with the brand's alcohol wipes. "Whether it's fast food, banana leaf rice or keropok lekor, we Malaysians love to eat. Better so with our hands. However, when it comes to cleaning our hands, we don't always have access to water and soap when we're dining out. With our alcohol wipes, hand hygiene will no longer be an issue," added Tai.
Becoming Alcosm's Wipe Ambassador is easy. Anyone who has a love for social media and a pack of Alcosm 75% Alcohol Wipes can apply! Simply upload a photo or video using the brand's alcohol wipes with food and submit the application here anytime between 24 February 2020 and 15 March 2020.
In conjunction with the campaign, Alcosm™ is also partnering up with brands such as Shopee and Easi Delivery where 40,000 packets of alcohol wipes will be given to individuals who purchase groceries or food delivery from these platforms.