Kuala Lumpur, 21 Juy 2023 –UNIQLO today announces that it will launch the "Hey, Let's Go!" collaboration collection with Studio Ghibli on August 21. The new lineup will add a splash of fun to the summer for customers in Southeast Asia. To celebrate, UNIQLO in Singapore will host a series of fun events for Ghibli fans of all ages.
A second UNIQLO and Ghibli collaboration collection exclusively for Southeast Asia
The new collection will be available solely in stores and through UNIQLO.com in Singapore, Malaysia, Thailand, the Philippines, Indonesia, and Vietnam. All 27 items will incorporate art featuring Ghibli's best-known works and designs by Thai artist Kanyada and longtime Studio Ghibli Producer Toshio Suzuki. Items will be in men's, kids', and baby sizes. As well as T-shirts, the lineup will also include shirts, sweatshirts, socks, and the Round Mini Shoulder Bags that have proven to be a worldwide hit.
Kicking off with special events at Bugis+ in Singapore
Along with the release of the collection, there will be something fun for Studio Ghibli fans of all ages at a series of special events. A film festival commemorating the collection with free screenings of six Studio Ghibli films will start at the Golden Village cinema at Bugis+ in Singapore from August 17. For a limited time, Bugis+ will also host a stamp rally, feature photo spots with famous scenes from "My Neighbor Totoro" and "Spirited Away", and display large models of such popular characters as Totoro and Ponyo. Some Southeast Asian stores will additionally offer kids opportunities to sketch one of Ghibli's iconic Dust Bunny characters and add them to an art wall, and take part in Ghibli's Hide & Seek games.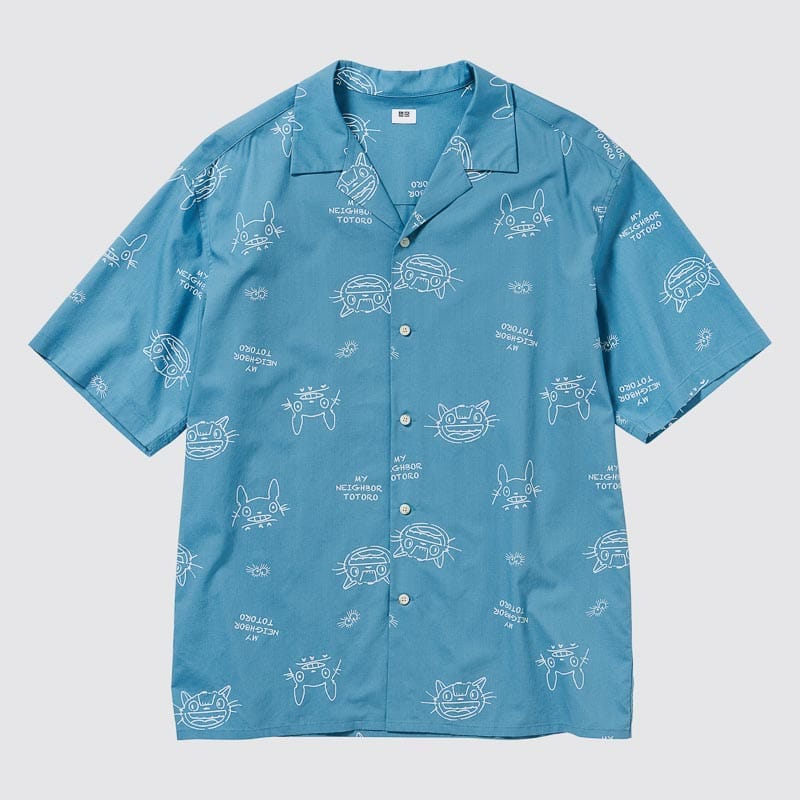 Event overview
Dates: Thursday, August 17, through Thursday, September 14, 2023
Venue: Bugis+
Activities: Including film festival at Golden Village Bugis+, photo spot, and large models of characters
Times: 10:00 am to 10:00 pm daily
Admission: Free
Access: 201 Victoria Street #05-01 Bugis+ Singapore 188067
About Kanyada Phatan
Artist from Thailand. "From Pak Thong Chai" is being serialized in the monthly booklet "Neppu" published by Studio Ghibli in Japan. She contributes a photo and poem each month. She is the author of "The Tale of Ghibli Museum" and co-author of "Goro, Where did you Come from, Where are you Going?" and "Words of Wisdom I Heard from Ghibli's Suzuki About Work." (Both published in Japan). In 2022, she published "KANYADA", a collection of photographs of the beautiful scenery of Pak Thongchai, Thailand.
Born in Nagoya in 1948. After graduating from Keio University Faculty of Letters he joined Tokuma Shoten Publishing. After working on the weekly magazine "Asahi Geino" he participated in the launch of the monthly animation magazine "Animage". While serving as deputy editor and editor-in-chief, he was involved in the production of Isao Takahata and Hayao Miyazaki works, including "Nausicaä of the Valley of the Wind", "Grave of the Fireflies", and "My Neighbor Totoro". Participated in the establishment of Studio Ghibli in 1985 and has been dedicated to Studio Ghibli since 1989. Since then, he has produced almost all theatrical works. Currently, he is the Representative Director and Producer at Studio Ghibli.
About Toshio Suzuki
Overview of the STUDIO GHIBLI UT Collection
Launch date: Monday, August 21, 2023
Items:
Men: 13 T-shirts, shirts, and sweatshirt designs prices at RM 59.90 to RM 129.90
Kids: 6 T-shirt designs priced at RM 39.90
Babies: T-shirt designs priced at RM 39.90
Accessories (5 bags and sock designs) priced at RM 59.90
Availability: All UNQLO stores and UNIQLO.com
Special site: https://www.uniqlo.com/my/en/spl/ut/my-style-my-ghibli
Product site: https://www.uniqlo.com/my/en/search/?q=ghibli