Meet Erica and Rachel, two talented doodle artists who tell stories through artwork
Sometimes creativity is as simple as taking what's in your head and putting it on paper. Daily drawing or doodling can force you to reconsider an idea as you transfer it from your brain to the reality of the page.​ Do it without any expectations or goals beyond freeing up room in your brain for other new thoughts and ideas, and you may be shocked at what you come up with.
For most of us, it takes time to discover what we truly love. Two Gen-Z artist, named Erica and Rachel, found their passion at a remarkably young age, and continue to wow people with their talent in doodling. Inspired by their life and interests, their drawings sprawl across food and eating as well as interesting storytelling.
Erica Eng, 24 years old from Johor
"I have been drawing since I was two years old, according to my parents. I was a shy and quiet child, so I naturally gravitated towards activities I could do on my own like reading and drawing." Erica says. Sometimes, she would indulge in drawing for over 5 hours a day without feeling any tiredness. In secondary school, she started to get more serious about her hobby. She picked up classical art basics, like figure drawing and anatomy.
Her doodles encompass a wide and seemingly infinite variety, including fanart of her favourite novels, films and TV shows, besides still life and figure drawing. The young artist is currently more interested in illustrating her own stories and characters as she grew up. In 2020, Erica won Eisner and Ringo Awards for her webcomic, Fried Rice.
Having spent years as an illustrator and animator, Erica expressed there have been some setbacks, such as getting wrist pain and encountering stylus issues when using a pen display tablet. To overcome these challenges, she will have to ensure she gets enough rest and does not overwork her wrist. Now, she owns a HUAWEI MatePad Pro 11, which has fully solved her stylus issues.
"I didn't have to worry about lags and crashes when using the M-pencil and could immerse myself fully into my drawing. The stylus is light, just like a pencil, and the tip felt good to draw on with the right amount of friction." Erica says.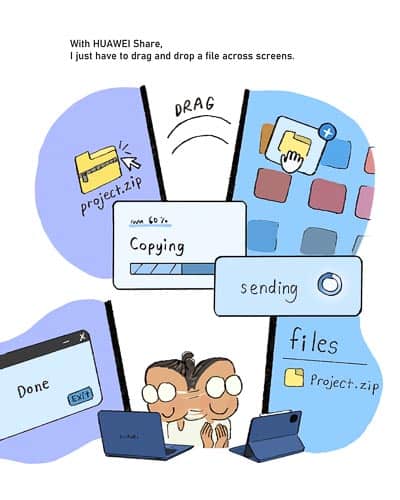 Erica Eng's latest comic curated specially for HUAWEI drawn on HUAWEI MatePad Pro 11
She was impressed by the HUAWEI MatePad Pro 11, not only being a great drawing tool but also the powerful features equipped. "I like the Super Device feature that mirrors or extends my MateBook's screen and allows me to drag and drop files between the two devices- perfect for drawing or multitasking." In the drawing app Erica uses (Clip Studio Paint), she can directly share drawing files to the laptop to make edits as needed via HUAWEI Share.
Rachel, 25 years old from Kuala Lumpur
Working as a graphic designer and doing illustration on the side, this 25-year-old young girl loves to illustrate the things she loves – from drawing outfits and dresses to food and beverage menus. It has been Rachel's hobby since young.
"My favourite drawing is food and eating. That's why my Instagram is full of food illustrations; they are full of my interest." Rachel explains, "but I pretty much create doodles from anything as I get inspired by all the things I see."
Art was important to her right from childhood as a handy drawing tool. "I love how sleek the HUAWEI MatePad Pro 11 is. Its lightweight design makes it convenient for me to carry around." Rachel shares. "And also, the screen colour is amazing. I believe colour precision is important when it comes to designing & illustrating." She added.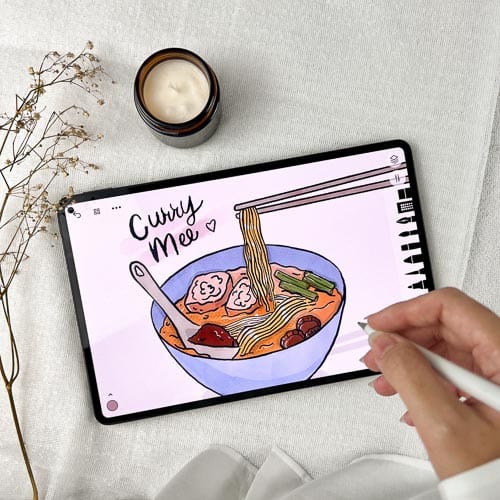 Illustration work by Rachel, drawn on HUAWEI MatePad Pro 11
Doodling has always played a significant role in her journey. "Maybe others will enjoy watching shows on a tablet. But for me, drawing is essential. The stylus and the tablet combo are perfect." Rachel says.