Launching a new series of yogurt smoothies and a collaboration with Amazin' Graze, Coolblog is doing their part to support breast cancer awareness this Pink October.
Kuala Lumpur, 28 September 2022 – Coolblog launches a new delicious innovation known as the Cool, Amazin' Yogurt series, available for a limited time only. Often recognized for their vibrant flavors, this round Coolblog is introducing three new hearty yogurt smoothies which are Merry Mango, Blueberry Bliss and Strawberry Swirl.
Coolblog has always strived to continuously innovate their products to cater to the current consumer palettes and trends. Malaysia has seen a recent rise in popularity of yogurt based drinks which have now become one of the top most sought after treats by local consumers. Coolblog has heeded this call, inspiring the brand to launch their new yogurt themed series, Cool Amazin' Yogurt.
Comprising three superfruit flavours, every smoothie is yogurt based, with a balance of sweetness to better bring out the taste of the real fruit puree toppings. The Merry Mango smoothie is a creamy mango yogurt smoothie topped with real mango puree. Blueberry Bliss on the other hand is a decadent blueberry yogurt smoothie topped with real blueberry puree for a tart zing of flavor, perfect as a pick me up. And for those who appreciate varieties, the Strawberry Swirl combines two fruit flavours in the form of a strawberry yogurt smoothie, topped with real mango puree.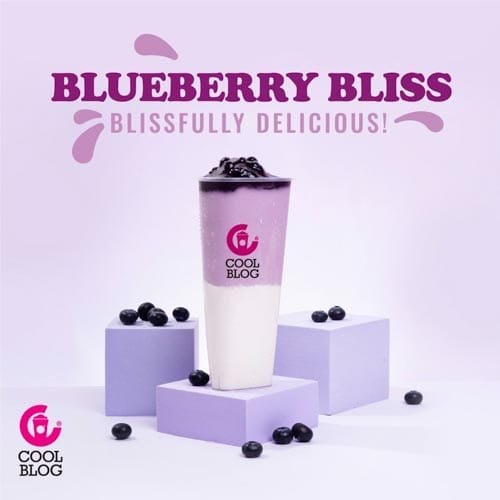 As a homegrown brand focused on providing consumers a delightful experience, Coolblog has also partnered with fellow local brand Amazin' Graze to promote an uplifting lifestyle. Consumers will now be able to get their yogurt smoothie and granola fix in selected stores across Malaysia. This pairing is the perfect snack to leave anyone feeling good, packed with deliciousness to help consumers feel ready to take on the day.
With a women-led team and female-centric consumer base, Coolblog is deeply committed to uplifting their local community especially during Pink October. This has inspired the brand to partner with BookDoc to provide exclusive discounts on womens' health screening packages via the BookDoc E-marketplace website for loyal supporters of CoolBlog. In line with this initiative, the Strawberry Swirl smoothie will also be dedicated to Pink October, with Coolblog contributing RM 1 from every purchase of this flavour to the National Cancer Society Malaysia to aid in their ongoing initiatives for breast cancer awareness through education, care and support for those affected by breast cancer.
The first cancer-related NGO established in Malaysia, the National Cancer Society of Malaysia (NCSM) is the oldest standing advocate for cancer control in Malaysia, now standing at 50 years with the motto of "Giving Hope. Celebrating Life". Offering an extensive range of cancer services, their goal is to minimise cancer in Malaysia by raising public awareness on the prevention, screening and early detection of cancer through education, increasing access to cancer services by providing accessible, advanced screening and diagnostic facilities as well as empowering those affected by cancer to maintain the highest possible quality of life.
The Cool Amazin' Yogurt series will be available from 1st October 2022 – 24th November 2022 in all Coolblog stores across Malaysia. Although decadent, the smoothies have been priced at a reasonable RM 11.90 for Blueberry Bliss and RM 10.90 for Merry Mango as well as Strawberry Swirl, in line with Coolblog's belief that everyone can treat themselves with the very best whenever they want to and as often as they like. Do your part this Pink October through every purchase of Strawberry Swirl and treat yourself to the Cool Amazin' Yogurt series.
Be sure to stay up-to-date with exclusive deals and promotions by following CoolBlog on all our social media platforms!
For more information, please visit:
Official website: www.coolblog.com.my
Facebook page: www.facebook.com/coolblog.my
Instagram page: https://instagram.com/coolblogmalaysiaOfficial hashtags: #CoolBlog #CoolAmazinYogurt #StayInLoveWithCoolblog