Subang Jaya, 20 June 2022 – To address the learning poverty gap among B40 communities, Taylor's University officially launched its 'Projek BacaBaca' at Taylor's Lakeside Campus. The evidence-based reading programme, sponsored by Mah Sing Foundation, is designed to ensure students aged 6 to 9 years from underserved communities are able to read at grade level, helping them perform better at academics and other classroom activities.
In 2019, a World Bank report stated that that 13% of students in Malaysia at late primary age are not proficient in reading. It is expected that due to COVID-19, 10% more students will fall into learning poverty (UNICEF, 2021). This inequity among students contributes to their inability to comprehend other subjects and increases their chances of dropping out of school.
Recognising the education divide, the Taylor's University School of Education (SoEd) conceptualised Projek BacaBaca, a community focused project where volunteers and reading coaches from various backgrounds conduct one-on-one English and Bahasa Melayu reading sessions with primary school students over the phone, helping them improve their reading and learning skills.
"Taylor's is a purpose-driven university, where learning focuses on developing solutions to societal challenges. Our research has shown that children who are not reading at grade-level are more likely to drop out of school as low proficiency in reading means children are unable to use their reading skills to excel in other subjects. So, our academics and students in the 'Education for All' impact lab worked with communities, businesses, and non-profits to address low reading proficiency among B40 students," said Professor Dr. Pradeep Nair, Deputy Vice Chancellor and Chief Academic Officer, Taylor's University. "We identified literacy gaps faced by 6-9 year-old students and then through Projek BacaBaca, incorporated effective approaches to pave the way for their literacy development. We saw an improvement of between 64% to 86% in their reading ability in Bahasa Melayu and English after 6 months."
Prior to the official launch, phase one of Projek BacaBaca was conducted for 30 students from PPR Seri Alam, who were coached by 30 volunteers, known as reading coaches, from June till December 2021. Phase Two this year involved 100 students from Cheras, Klang, Banting, Petaling Jaya and Kota Belud (Sabah) to be assigned to a volunteer each to increase their reading interests and skills.
Both phase one and phase two were funded by Mah Sing Foundation, with reading materials provided by Twinkl Malaysia, U-Pustaka and National Library Malaysia, in addition to reading coaches' support from Rotaract Society at Taylor's Lakeside Campus.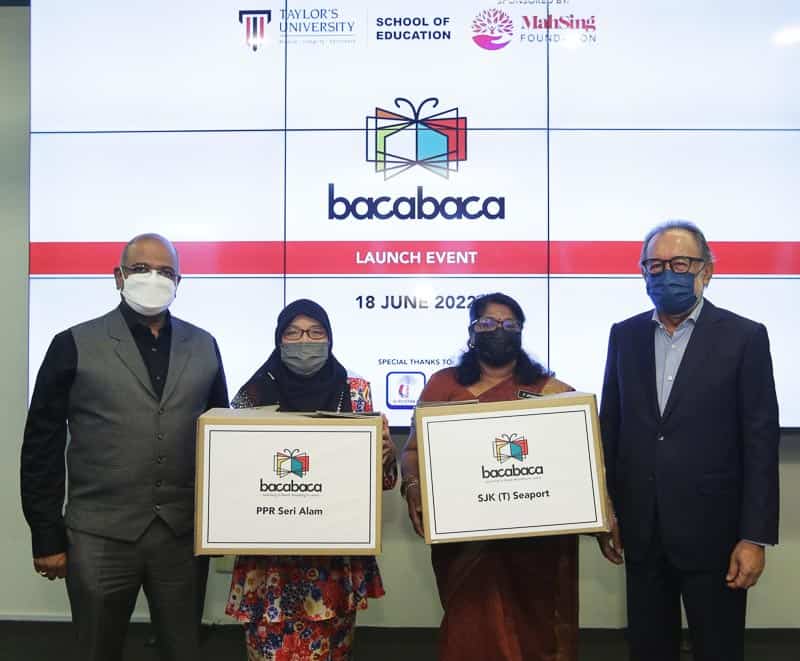 Mah Sing Foundation's Chairman, Dato' Indera Syed Norulzaman Syed Kamarulzaman said, "Since the Foundation's inception 15 years ago, we have always placed our utmost priority to enhance the lives of the underserved and marginalised community, particularly the B40 children. This initiative to exclusively sponsor the Projek BacaBaca augurs well for one of MSF's key pillars – Education, as we believe that investment in a better future can be achieved when every child is provided with the opportunity to thrive and fulfil their fullest potential. Through phase one of this programme, we witnessed impressive growth in the children's reading skills in both English and Bahasa Melayu. I have been told that at the end of phase one, most of the children are able to independently read texts that previously required one-to-one support from the volunteers and are voluntarily reading during their free time. I am extremely proud of this steadfast improvement, and it has stimulated our decision to continue funding for phase two this year."
"The extended school closure due to the pandemic has caused learning losses for students, especially those from disadvantaged homes. The aim of Projek BacaBaca is to provide them with an avenue to catch-up on their studies through personalised reading sessions and quality reading materials. We hope that this initiative improves the students' reading proficiency and helps them cope with all the other school subjects," said Hema Letchamanan, Senior Lecturer, School of Education, Taylor's University.
Along with the reading sessions, Projek BacaBaca has outlined several future initiatives in a bid to continue impacting the lives of students. To do this, the programme intends to provide aid to students who are struggling with learning challenges by providing them with diagnosis and counselling.
Additionally, an extension of this initiative, Projek BacaBaca+, will guide students from Chinese and Tamil primary schools to attain Mastery Level (TP) 4 to TP6 in their Bahasa Melayu assessments before proceeding to Form 1, as mandated by recent government policy. This initiative is currently being carried out face to face with 20 students in SJK(T) Seaport, as a form of intense coaching to help students gain better language proficiency that will allow them to successfully progress up the academic ladder.
This project is an example of the Taylor'sphere ecosystem whereby like-minded partners, academics and students come together to reach the country's most vulnerable populations, to provide them with the help they need.
Projek BacaBaca is looking for volunteers who can join the cause as coaches and assist in helping to teach ENG and BM language skills to children from the underserved communities. If you are interested to volunteer for Projek BacaBaca, you may fill up this form: https://tinyurl.com/2b27s35r. For any enquiries, you may also email [email protected].