New Pink Guava and Mulberry kombucha add a spark of extra flavour and nutrition.
ÜNIIQ partners with health experts from UCSI University to build awareness and elevate the health of the Malaysian public.
Kuala Lumpur, 23 November 2022 – Local lifestyle beverage brand – ÜNIIQ is on a mission to continue its pledge to improve the health and well-being of the public. Towards this end, the brand has introduced two new exciting flavours of kombucha – pink guava and mulberry in expanding their range of kombucha flavours to six.
ÜNIIQ has also collaborated with an expert who specialises in developing nutrition and wellness programmes, Dr Vaidehi Ulaganathan, Head of the Nutrition and Wellness Programme at UCSI University, to raise awareness and education about kombucha and its benefits.
Refreshing New Flavours
Following the success of their initial line beginning of the year with four flavours – Classic, Rose, Calamansi and Passion Fruit, ÜNIIQ has now launched two new flavours of Pink Guava and Mulberry.
The Pink Guava kombucha is set to tickle taste buds with a tropical twist of flavour mingled with the fizzy goodness of kombucha. Meanwhile, the Mulberry Kombucha promises to appeal to refined palates with a tart berry taste combined with an aromatic earthy fermented black tea.
"At ÜNIIQ, we are committed to bringing the best of our 4,500mg prebiotics in every bottle of our kombucha, making it beneficial for you and your health. Now with our new flavours, customers have even more options when choosing a healthy kombucha drink," said Soon Teoh, Founder of ÜNIIQ.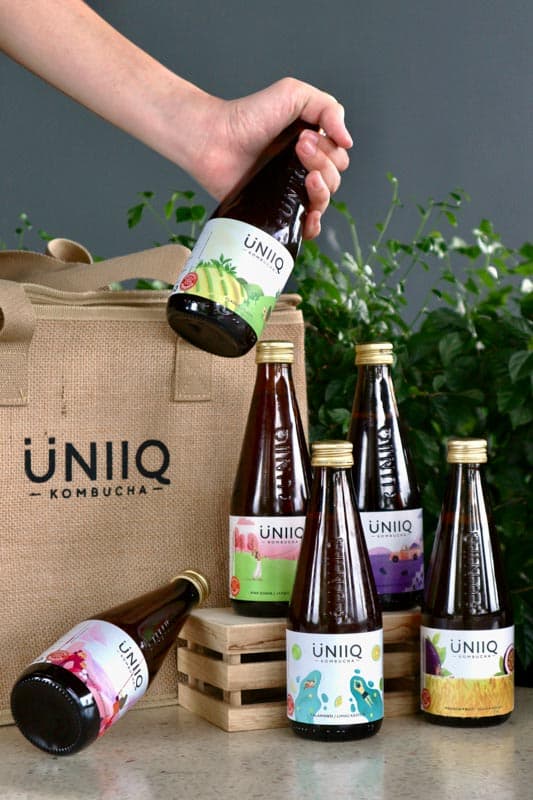 Hear it from the Expert – Dr Vaidehi
The fermented tea drink is well-known for its health benefits like promoting gut health, supporting healthy immunity and aiding digestion. While all kombucha is praised for its probiotics content, ÜNIIQ took it one step further to educate Malaysians about the benefits of prebiotic drinks.
Dr Vaidehi believes that dietary and lifestyle factors cause health problems that affect a large number of Malaysians, such as diabetes and certain heart conditions. However, it can reduce the risk of these conditions by improving our digestive system function.
With that, ÜNIIQ's conversation with Dr Vaidehi emphasizes on the importance of probiotics and prebiotics. Consuming a probiotics-rich supplement like kombucha improves one's health because it significantly impacts gut health.
Kombucha is also viewed as an ideal supplement as a preventative measure by helping the body function better thus reducing the risk of various commonly occurring health conditions. In addition to that, kombucha is also high in antioxidants, a substance known for its ability to prevent cancer and other diseases such as multiple sclerosis.
Importantly, ÜNIIQ and Dr Vaidehi hope to convey that a healthy gut could prevent more than irregular bowel movements and reduce bloating. They believe that the gastrointestinal tract's health often sets the tone for the rest of the body. "While eating the right food is important," Soon Teoh emphasizes, "having the right balance of healthy bacteria in the gut is the only way the body can benefit from the food choices made."
ÜNIIQ is the only kombucha in the market that contains 4,500mg of prebiotics, providing consumers with a broader range of benefits than traditional kombucha. Prebiotics ensure that the body is able to maintain a balance of healthy bacteria in the gut by producing the necessary amounts to keep the body well-fueled for a longer period of time.
All of the delightful kombucha options by ÜNIIQ are Halal and MeSTI certified in a food safety adherence production centre with the highest standard of quality control.
In an effort to increase public consumption of kombucha, ÜNIIQ is currently offering a Buy-2-Free-1 campaign until 31 January 2023, in participating Jaya Grocer, Village Grocer, BIG, The Food Merchant and selected AEON outlets, while stocks last.