Engineered with maximum, consistent comfort in mind, the fourth generation comes in three new ranges, Delta, Hyper Craze and Essential for men and women.
Kuala Lumpur, 28 September 2022 – Skechers, The Comfort Technology Company™, and a global leader in lifestyle and performance footwear, has announced a new launch of the Max Cushioning series. The collection features three new lines, Max Cushioning Delta, Max Cushioning Hyper Craze and Max Cushioning Essential.
The new range is available online at www.skechers.com.my, Lazada, Shopee and selected stores, and it will still be launched progressively until the end of this year for Max Cushioning Delta, Max Cushioning Hyper Craze and Max Cushioning Essential.
Building upon the existing range, this new launch is the fourth generation of the Max Cushioning line and features a collection specially designed for fitness enthusiasts of all levels. The latest iteration has been crafted to provide a comfortable, cushioned experience that stays consistent no matter how long you wear the shoes and offers excellent support.
Max Cushioning Delta strikes an outstanding balance between those who want to have a stylish pair of shoes but can also keep up with regular workout sessions in a gym. The Delta also features Goodyear® Performance Outsole for excellent traction for running outdoors and on the track.
Max Cushioning Hyper Craze is for hardcore fitness fanatics who want a comfortable and durable shoe to keep up with their intense workout sessions. It features the Goodyear® Performance Outsole and the HYPER BURST® cushioning to ensure consistent comfort no matter how demanding the users are.
Max Cushioning Essential is excellent for those who do light workouts and value comfort and support but also want a pair of durable, light and easy shoes to wear while out and about during your day. These are great for those who want an all-purpose pair of shoes.
"Here at Skechers, we have always designed our shoes to blend comfort and style perfectly. The new Max Cushioning range best exemplifies this. Our customers love its unique combination of style, comfort and support, so we have incorporated our latest technology innovations into this new range, alongside our Goodyear® outsole for maximum durability, comfort and traction. For these reasons, Fitness enthusiasts from athleisure to the most rigorous and demanding workout sessions will be able to complete their workouts confidently." Said Zann Lee, Managing Director of Skechers Southeast Asia.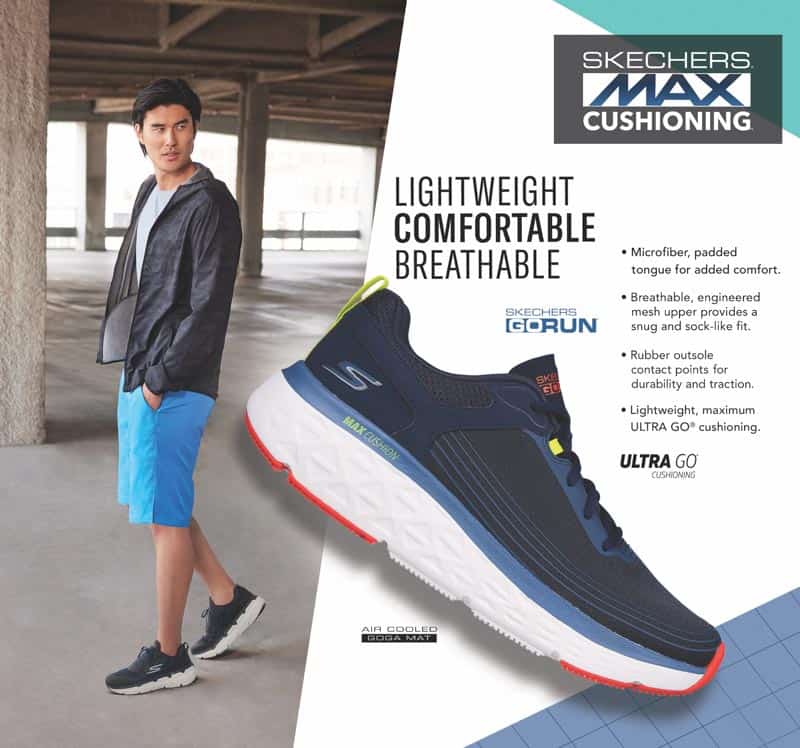 Skechers X Goodyear® Performance Outsoles
Established in 1898, Goodyear® has over 120 years of excellence and innovation. The outsoles are made with the same technology as the Goodyear® Best All-Weather Traction tires. The rubber is a soybean oil-based type that increases traction and durability across a broader range of temperatures.
Excellent traction on most surfaces and conditions
Enhanced stability through exceptional traction
Durable Rubber for long-lasting wear
– more –
The Skechers Max Cushioning Delta. Feel the confidence to run, walk and work out in total comfort with Skechers Max Cushioning DeltaTM. This athletic lace-up features engineered mesh and synthetic upper with a Skechers Air-Cooled Goga MatTM and ULTRA GO® cushioned platform.
Skechers Max CushioningTM design for exceptional comfort and support
Skechers Air-Cooled Goga MatTM breathable insole with high-rebound cushioning
Lightweight, responsive ULTRA GO® cushioning platform
Goodyear® Performance Outsole delivers enhanced traction, stability and durability Ortholite® comfort foam insole layer adds long-term cushioning and high-level breathability with 5% recycled rubber content
NRT – Natural Rocker Technology for a smooth heel-to-toe transition