Kuala Lumpur, 14 April 2023 — The most complicated aspect of moving into a new home is deciding where to begin. Conducting random Google searches for the right furniture pieces, sifting through tens of catalogues, and attending numerous furniture exhibitions are all unavoidable steps in the process.
A new frontier in home furnishing and design innovation, SofaX Personal Shopper service takes the stress out of shopping for home decor and brings the joy back into creating beautiful living spaces with the help of a trusted advisor.
SofaX Personal Shoppers provide customised suggestions based on the homeowners' parameters and ensure they get the best deals from a catalogue featuring over 100 renowned furniture and interior design brands, including Lorenzo, Crownlivin, Enzol Furniture Gallery, Mind Sketch, Pallet Hawse, and Touch by Design. Backed by a team with extensive knowledge and connections within the furniture and interior design industries, the Personal Shopper service is driving the future of home decor.
"The majority of homeowners and people we know are always looking for a trustworthy advisor to guide them in their home design journey, without the pressure to purchase products or services. It's much like a hotel concierge service where patrons can ask for directions or guidance without any pressure to buy anything. This realisation led us to create such a service for homeowners that keeps them at ease throughout their journey. We call it the Personal Shopper service, and we are proud to have it homegrown as the first-of-its-kind in Malaysia" said Mac Lai, Co-Founder of SofaX.
The Personal Shopper service is designed to be a seamless bridge between homeowners and furniture retailers or interior design service providers. It is the ideal tool for integrating online research and vision boards with the offline market, providing a phygital (physical + digital) experience for homeowners.
"We understand that some homeowners may have had initial doubts about our Personal Shopper service. However, we have been humbled by the positive feedback from those who have used it, with many recommending it to their friends and families. The unique aspect of our Personal Shopper service is that it provides a genuine human connection, whether it's face-to-face or digital, with recommendations based on a friend's approach rather than a pushy salesperson mindset. While sales are important to us, we believe that homeowners will make a purchase when they find something that truly suits them. With our extensive range of participating brands, we are confident in offering diverse options for homeowners to choose from," Mac added.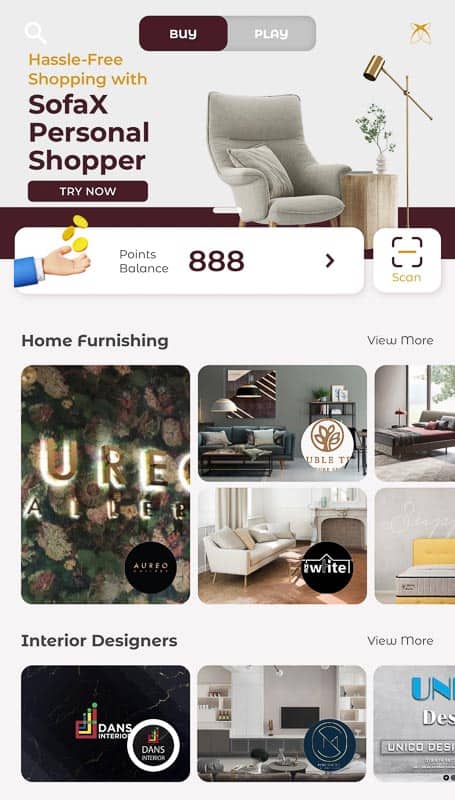 The company's Personal Shopper Team has been expanding rapidly to keep up with the high volume of inquiries received, exceeding their initial expectations. Their participation in Key Handover events with property developers, such as Mah Sing, UEM Sunrise and Mitraland, has generated significant interest in their service.
Furthermore, SofaX offers discounts to their users through their SofaX Rewards system. Users can also take advantage of the convenience of 0% interest instalment plans for up to 24 months with over 100 top furniture and interior design brands available through SofaX.
To find out more, kindly visit SofaX's website www.sofax.com or their Facebook and Instagram pages. The SofaX Personal Shopper service can also be accessed through their Whatsapp number at +60 17 394 1763.