For only one short weekend, LG is calling for Malaysians to check out its range of water and air purifiers and stand a chance to bring home goodies and prizes
PETALING JAYA, 27 April 2021 – Leading home appliances manufacturer, LG Electronics Malaysia (LG) is encouraging Malaysians from all walks of life to drink healthier and breathe better with its lineup of LG PuriCare™ products.
In conjunction with the annual Home Design & Interior Exhibition (HomeDec 2021) set to take place from 29th April until 2nd May 2021 at Kuala Lumpur Convention Centre (KLCC), LG is giving Malaysians the opportunity to receive not only first-hand experience in trying out their revolutionary products and purchase them at a discounted price, but also to stand a chance to win a shiny new LG PuriCare™ 4-WARD Tankless Water Purifier!
The LG PuriCare™ lineup of products, which includes its water and air purifiers will be on display and made available at the LG Booth 1D069, Hall 1 @ HomeDec 2021. The range of available products includes:
& LG PuriCare™ Tankless Water Purifiers which comes with 3-Stage Filtration System, eliminating microorganism and seven types of heavy metals such as mercury, lead, arsenic, cadmium, iron, copper, and aluminum while ensuring the beneficial minerals are kept intact. The 'tankless' technology directly filters water without the need of a tank, where potentially dangerous microorganisms form, ensuring heighten hygiene for consumers.
LG PuriCare™ 360° Air Purifiers which helps absorb pollutants at a 360º angle around the house. The Clean Booster feature rotates and deliver clean air everywhere without missing a single corner. The air is filtered through 6-Step Filtration System through inflow air goes through the filter and eliminates ultra-fine dust, allergens, and harmful gases.
Now, LG PuriCare™ is offer 7 months rental fee FREE for all water purifier models. Also walk-in customer to Homedec will get one limited LG PuriCare™ water bottle!
No.
Category
Model
Type
MSRP (RM)
Price After Discount (RM)
1
LG PuriCare™ Water Purifier
WD515AN
4-WARD Tankless
5,600
Free 43" TV OR 10% (3Y CareShip)
2
WD512AN
Tankless
5,000
3,000 (1Y CareShip)
3
WS410GN
Tankless
5,000
3,000 (1Y CareShip)
4
WD210AN
Tankless
4,100
3,280 (3Y CareShip)
5
LG PuriCare™ Air Purifier
AS65GDPB0
Single Booster
3,800
30,40 (1+1 CareShip)
6
AS10GDPB0
Double Booster
5,100
4,080 (1+1 CareShip)
Snap & Win A Brand-New Water Purifier!
Guess what? The fun doesn't stop there! If you're in the area as and when the exhibition is happening, you can visit the LG booth, where visitor can redeem a free limited-edition LG PuriCare™ water bottle[1]. On top of that, LG also running a Snap & Win contest for visitors to stand a chance to bring home a brand-new LG PuriCare™ 4- WARD Tankless Water Purifier.
Steps on how to win one is really that simple:
Visit the LG Booth 1D069 (Hall 1) at HomeDec 2021, KLCC anytime from 29th April to 2nd May 2021.
Take a selfie with a display unit of the LG PuriCare™ 4-WARD Tankless Water Purifier.
Post the photo(s) on your Facebook profile (don't forget to set it to public) and include the hashtag #PuriCareHomeDecKL.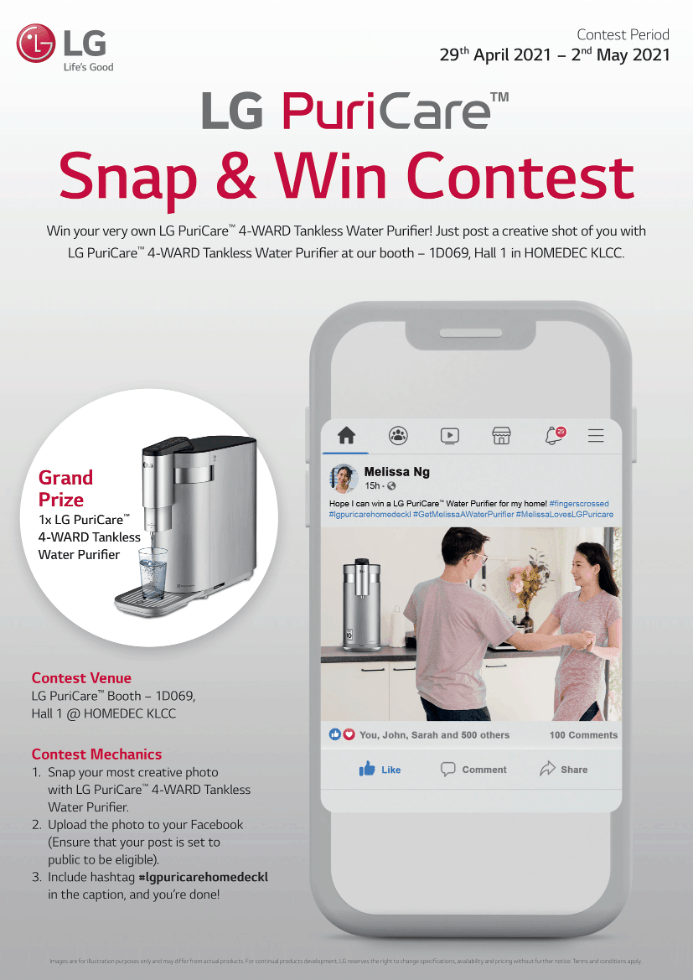 Find Out Ways to Be Stylish and Hygienic with The LG Styler™!
Calling all fashionistas out there! If you've always had concerns about wanting to wear certain clothes but too lazy to head to the dry cleaners, fret no more – LG has a little something for you.
For those who would love to check out the all-new LG Styler™, which will definitely play a role in minimising the time and money you use to take care of your clothes, you can head over to Kuala Lumpur Convention Centre (Convex Malaysia Sdn Bhd) from 29th April until 3rd May, where LG will be taking part in HomeDec KL 2021, Malaysia's No.1 Home Design & Interior Exhibition.
For more information on LG's award-winning products, please visit https://www.lg.com/my or follow their official Facebook page at https://www.facebook.com/LGEMalaysia/ for the latest updates.
---
[1] First come, first serve basis. While stock lasts.
---
[1] Terms and conditions apply.
RAMARAMA ialah portal maya dengan fokus kepada perkongsian daripada usahawan kepada usahawan dan kisah inspirasi dari individu-individu luarbiasa.
RAMARAMA is a Malaysian made lifestyle concept video magazine and online portal focusing on contemporary lifestyle and inspiring stories from extraordinary individuals.
Dimiliki oleh BlackButterfly DesignArts (Co. No: 002093315-W)
Owned by BlackButterfly DesignArts (Co. No: 002093315-W)