Leading Thai Malls set to become Must Visit Destinations with Dazzling Line Up of 700 Eateries
Kuala Lumpur, 2 August 2022 – With COVID-19 finally relinquishing its grip on society, Malaysians across the country have been flocking to malls, restaurants, cinemas and more as they look to make up for lost time. One thing many Malaysians have been craving is to finally scratch their travel itch and the past few months have seen just that with revenge travel becoming a term and topic hotly discussed.
A recent announcement from Thai deputy government spokesman Traisuree Taisaranakul, shed light on revenge travel as it pertains to Malaysians – indicating that Malaysians made up the second largest tourist group visiting the country in May of this year.
The rise in tourism in our neighbours to the north is unsurprising with travel and health restrictions being relaxed significantly just recently – including the removal of the requirements for pre-travel registrations and medical insurance for tourists as well as the lifting of mask mandates and extension of operating hours for nightlife establishments. These relaxed rules combined with the convenience, affordability, diversity of attractions and importantly, undeniably delicious food have seen Thailand jump to the very top of many Malaysian travel bucket lists.
The Mall Group, one of Thailand's leading mall chains, award winning shopping malls for both local and international prizes, in compliance with 9 malls, 7 stand-alone and 2 online sites, is looking to further tantalise and tempt Malaysian tourists with a bountiful array of exciting eats and entertainment across three of Bangkok's most popular tourist malls – Siam Paragon, The Emporium and The EmQuartier.
"We know Malaysians love food – even here in Bangkok, we meet many Malaysians and the one thing they all have in common is their love for food. So with more Malaysians looking to make their way up to Thailand to get their travel and food fixes sorted, we want to make sure that our malls have an unmissable line-up of tasty treats and other activities to delight all Malaysian tourists," said Ms Voralak Tulaporn – Chief Marketing Officer, The Mall Group Co., Ltd.
Siam Paragon is located at the heart of Bangkok's main shopping & business spanning 13 acres of land, it houses over 7,500 brands from luxury, fashion, beauty, leather goods, food and more.
Meanwhile, situated in the epicentre of Sukhumvit residential & business area is the EM District, consisting of the The Emporium and the The EmQuartier which are an interconnected combo of premium malls, direct access with BTS PromPhong station, surrounded by the spectacle of greenery at Benjasiri Park, offering true shopping highlights of both international calibre and local popularity.
Diners Delight – A Kaleidoscope of Flavours to Tickle your Taste Buds
With over 700 eateries in total, the three malls are sure to top the travel itineraries for food hunters on the lookout for the best places to dine while on vacation.
Siam Paragon is a true food destination where you can find various choices from international and local fine dining options, Michelin Star wining restaurants to street delicacies – they are all here.
If you're craving a more local touch to your dining experience, head to Gourmet Eats – the trendy food court at Siam Paragon. The food court has been specially curated with the operators scouring the country to uncover the best street food vendors and gather them in one convenient and centralised location for all to try.
Of particular note is Thipsamai PadThai, one of Bangkok's most iconic eatery brands with nearly a hundred-year legacy of serving authentic Pad Thai featuring shrimp oil, deep sea prawns with springy rice noodles, bean sprouts and crushed peanuts, all wrapped in a toasty omelette. Also within the food court is Rod Dee Ded, the famous beef noodle soup brand which has been around since 1969. The restaurant is renowned for its handcrafted noodles and premium-grade beef cuts.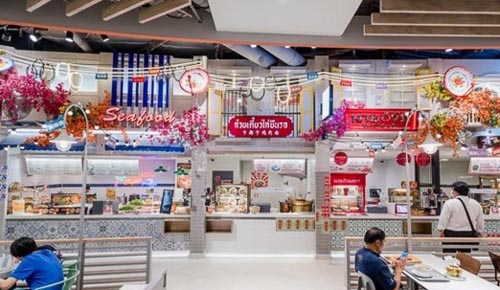 Those looking to satisfy their halal meat cravings while at Gourmet Eats can stop by at Jeerapan Grill Chicken to savour their famous yellow grilled Chicken that has been marinated for hours and grilled on charcoal creating a soft & tender texture. Meanwhile, Royal India serves up hearty north and south Indian cuisine including a tender and spice-filled chicken biryani.
If you're on the lookout for world-class cuisine, The EmQuartier has just the thing with the 4-time Michelin Star recipient restaurant, LukKaiThong. The restaurant features Chinese cooking with a Thai twist and offers close to 140 different menu items to select from. While at The EmQuartier, visitors will also get a chance to spiral their way down the Helix, a signature spiral dining paradise spanning 4 floors. The unique structure is home to Thong Smith a highly popular boat noodle shop and its sister Thai dessert outlet called Thong Sweet.
With recreational marijuana very recently being made legal in Thailand, the bold and adventurous can stop by Hemp House in The EmQuartier, a lifestyle plant-based eatery with food and drinks infused with the essence of hemp – an experience that is sure to be a high note of your trip. From one joint to another, Smoked Joint at B floor of The EmQuartier offers up succulent beef, pork and chicken that is packed with flavour, having been smoked for between 6 and 14 hours.
For those with a sweet tooth, Drop by Dough at The EmQuartier is sure to impress. The premium doughnut joint offers a unique combination of flavours that have wowed travellers including the tangy Berry Rose and the savoury Bacon & Cheddar Cheese doughnut. Quints at The EmQuartier and Siam Paragon meanwhile, is an ice cream parlour featuring smooth and flavourful handcrafted ice cream in novel flavours such as popcorn and chrysanthemum.
Those in search of exciting nightlife experiences can stop by Escape Bangkok, a rooftop restaurant at The EmQuartier. A vibrant and tropical escape from the bustling city, Escape features some of the best entertainment, atmosphere & cocktails in town. The EmQuartier is also home to Flamenco, a sky bar and lounge filled to the brim with good vibes, cigar club and Latin ambience serving guests great food and drinks as well as a great time.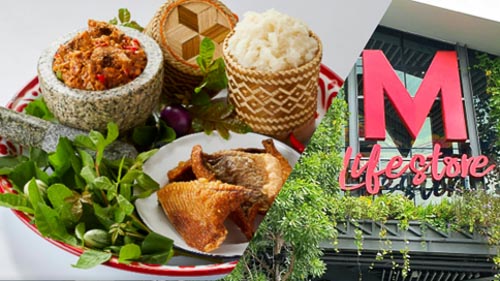 "Whether you're looking for local favourites, exotic eateries or a truly divine dining experience, food lovers will find something remarkable at our malls here in Bangkok. And not just only malls in the heart of city but you can also find the various choice of foods at our latest mall – The Mall Lifestore. We invite all travellers in Malaysia to stop by and savour the flavours of Thailand and beyond," Ms Voralak Tulaporn – Chief Marketing Officer, The Mall Group Co., Ltd. added.
For more information on Siam Paragon visit: https://www.siamparagon.co.th/ To check out The Emporium visit: https://www.the Emporium.co.th/en/ For detail about The EmQuartier visit: https://www.the EmQuartier.co.th/en/ For details about The Mall Lifestore visit The Mall Lifestore