7 August 2020, Kuala Lumpur –  In an unprecedented turn of events, most of us have spent nearly a quarter of 2020 working from home. However, with the number of positive COVID-19 cases steadily declining in Malaysia, many of us are gearing up to go back to work or are at the office already. If you are working with a team of people coming from different locations and using different modes of transport, social distancing and good personal hygiene are things you may want to observe.
To ensure that the numbers remain low, The Ministry of Health has issued guidelines for employers to bear in mind as they welcome their teams back to the office and are encouraging businesses to adhere to these regulations to ensure the safety of their employees[1]. The guideline includes tips on effectively managing conferences, maintaining social distancing in the office and ensuring hygiene within the work place. If you are an employer or just concerned about the well-being of your co-workers, here's a guide from 3M Malaysia you can follow to reduce exposure risk and ensure a healthy working environment for all.
Spring clean the office (And then do it again)
If your office has been empty for the better part of the Movement Control Order, you will want to start preparing the space by giving it an extremely good scrub. Start with the ceiling, then move to the floors and wipe down all the exposed surfaces. This should be followed by using disinfectant spray on all items especially high-touch areas such as chairs, tables, coffee machines, water filter, etc. An important tip to remember here is to give a call to the office maintainance team and have the air conditioning vents cleaned out as well. Since most enclosed spaces circulate stale air, the least you can do it to ensure that vents are cleaned out and ready to trap any additional dust. This will also prevent dust related allergies and false paranoia associated with contracting the flu.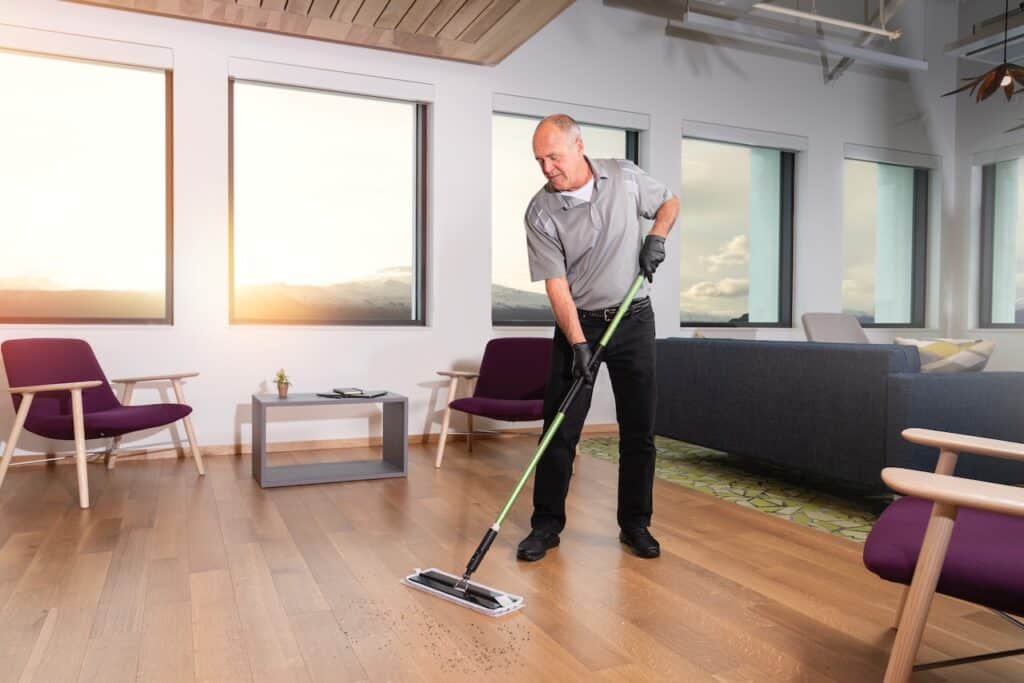 Stock the workplace with basic cleaning equipment
Once your workplace is clean and shiny again, stock up on some basic cleaning equipment that can be used by co-workers to keep their workstations clean before and after use. This can include versatile items like the 3M™ Disinfectant Cleaner that can be used to wipe down hard, non-porous surfaces as well as floors. You can easily transfer the cleaning liquid to a spray bottle and have it handy for use. Keeping a 3M™ Floor Mop and Cleaning Pad is also something that can be considered. For employees who use public transport, they can use the mop to swiftly wipe down the area around their workstations to reduce exposure risk. If your workspace includes a pantry or cafeteria, stock up on basic 3M™ Scotch-Brite™ Scourers and Cleaning Cloths so that the dining area can be wiped down after each use. A key tip here would be to keep the cloths and scourers dry after each use to avoid bacterial growth in a confined space. This can be easily maintained with the 3M™ Scotch-Brite™ Easy Grip Scourer that comes with a holder to keep the scourer dry and clean. Inculcating small habits as such will not only give those around you the peace of mind, but will also be beneficial on the long run in keeping the hygiene at the workplace in check.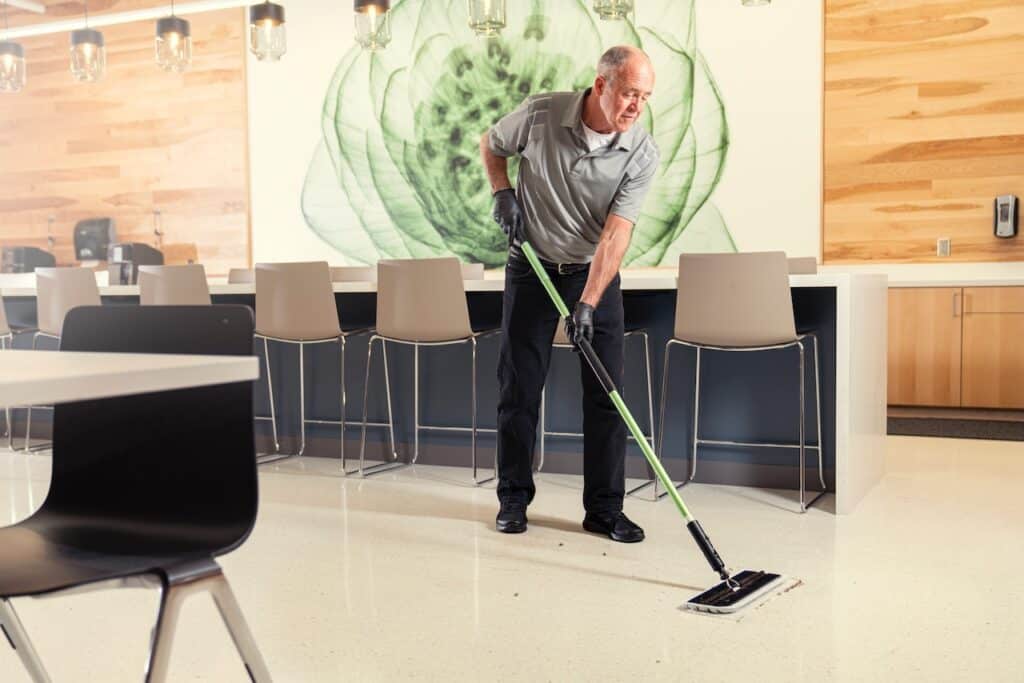 Communicate effectively with colourful signages
As we enter the new normal, we will also see a new set of rules and regulations emerge, especially those related to public health and safety. This may seem banal, but there's nothing a little creative communications can't fix. Instead of sending out one email blast that might reside in your colleague's inbox for eons, create signages that can be put around the workspace which can also double up as décor. You can leverage long lasting graphic ready materials from 3M's vast collection such as 3M™ Scotchcal™ Print Films and Overlaminate Films to create effective signages to communicate with your co-workers.
Additional tip: In a recent announcement made by 3M, the science company has collaborated with HP to share free-of-charge large-format graphics for commercial signage applications that are crucial to communicate social distancing and health and safety messages as public spaces, workplaces and businesses reopen amid the continued COVID-19 pandemic. The 3M Graphics COVID-19 Related Signage library for HP is a free, online resource providing templates, design elements and poster artwork created to communicate guidance on social distancing and signage for wayfinding, in addition to signage for public health awareness. More information about suggested uses as well as recommended 3M print materials, can be accessed at the HP Applications Center.
Prepare the office for social distancing
Never liked that spare bookshelf blocking your view? Now is the time you can embark on some office redesigning initiatives and see how you can make the office functional while adhering to social distancing regulations. Start by re-arranging desks at adequately safe distances and installing temporary physical barriers around desk areas such as book shelves or potted plants. As more and more meetings move to a virtual platform, you can also choose to move some desks to a conference room. Now that more meetings are taking place virtually, it is also advisable to reduce the occupancy of the conference room. If you are working in an organisation that has a larger team, you can consider installing one way walkways to reduce exposure risk.
Partner with a local caterer to have ready to eat meals in the office
Along with personal hygiene, strengthening your immune system is also key as we ride out the pandemic. Instead of filling the cafeteria with instant noodles and snacks cooked in refined oil, partner with a local food caterer who can supply packed meals to the office so that employees can enjoy healthier meals while at work. Not only will this reduce risk of exposure, as employees don't need to walk out of the office during lunch hours, it will create room for office lunch hour bonding sessions while supporting local businesses to get on their feet again. However, be sure to implement social distancing. You can also stock the pantry with nuts, energy bars and fresh fruits so employees have healthier munchies on standby, all of which are great natural immunity boosters.
Check-in on employee well-being and engagement
While we strive to keep the workplace clean, this period also calls for us to be more attentive towards each others mental health. Always encourage your employees to take better care of themselves, both physically and mentally. As we all try to adapt to the new normal, many among us might be struggling to keep up with the changing norms. Create room for regular employee engagement sessions, such as one-on-one chats, group workouts that follow social distancing rules, an office game or movie nights that give employees a chance to break out of the regular routine and engage in other fun activites. At 3M Malaysia for instance, Country Leader G.T. Lim organises a 'Coffee with G.T.' session where he interacts with employees on a regular basis to discuss any challenges that they face while actively engaging with the team. Watching out for each other as we navigate through a new landscape, will lead to better bonding and understanding between teams.
We hope that armed with these guidelines, we can all return back to safe, healthier and happier working environments.
---
[1] http://www.moh.gov.my/moh/resources/Penerbitan/Garis%20Panduan/COVID19/Annex_25_COVID_guide_for_workplaces_22032020.pdf