MALAYSIA, [12 October 2020] – Global sports brand PUMA has announced that it has partnered with Lazada Malaysia to re-launch its flagship store on South East Asia's largest virtual shopping mall, Lazada's LazMall, from 14 October 2020.
In celebration of PUMA's re-launch on LazMall, fans of the brand can look forward to an array of special discounts and promotions coming their way on 14-16 October 2020.
Shoppers can get up to 60% off on selected items while also enjoying an additional 10% and 30% discount when purchasing two and three items, respectively on LazMall.
In addition to this, the brand is also giving out a year's worth of PUMA supply for the top spender during the campaign's duration.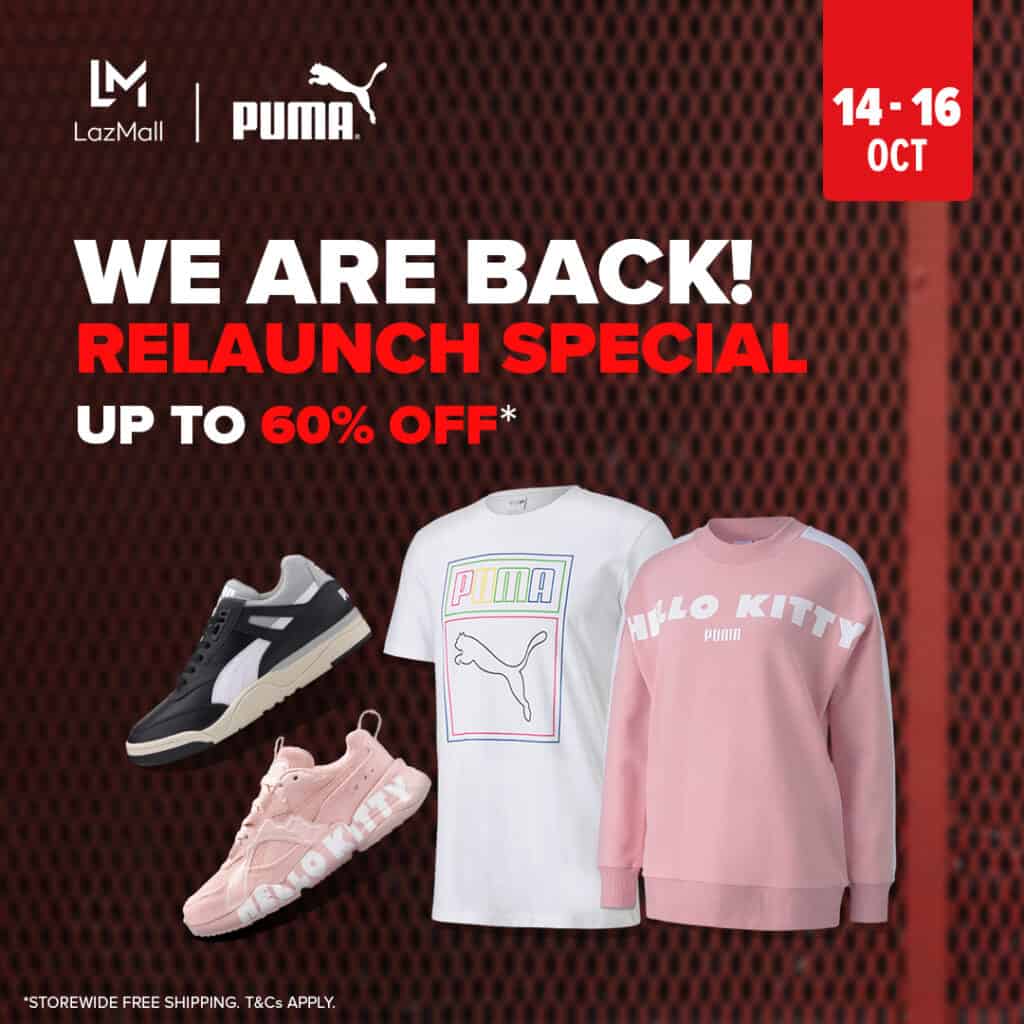 PUMA South East Asia General Manager, Sanjay Roy, believes the partnership will further elevate PUMA's digital presence locally and provide a comprehensive e-shopping experience for the customers.
"As a brand, we have always looked into the many different channels we could utilise in engaging with our customers. Our partnership with Lazada is a testament to our multi-channeled approach as we strive to enable the best shopping experience for our customers, both online and offline," said Roy.
"We are thrilled to welcome a sports retail powerhouse like Puma on LazMall. Their presence on Lazada reiterates the trust from brands in our platform, and will further cement LazMall as a premium quality shopping destination for every sports and fitness enthusiasts." said Leo Chow, CEO of Lazada Malaysia. "This continued expansion of new brands onboarding LazMall is key to our mission of providing authentic, quality products as well as the best deals and experience for our consumers." he continued.
The campaign will feature a special livestreaming event on LazLive on 14 October featuring radio host and content creator, Melissa Th'ng. By tuning into the live session, viewers will stand a chance to win cash vouchers and PUMA products worth up to RM60,000.
On the first two days of the campaign, 14 and 15 October, users will also enjoy free shipping with no minimum spending and also make further savings on footwear mainstays such as the PUMA Suede, PUMA Basket, and PUMA Ralph Sampson which will see an additional 30% discount.
Keep your eyes peeled for more updates as PUMA and Lazada is all set to bring you exciting deals and offers exclusively on LazMall.