KidZania Kuala Lumpur unveils new activities together with its new and renewed purpose partners
Kuala Lumpur, 2nd December 2022 – In a quest to continually bring new role-playing activities to life, KidZania Kuala Lumpur debuts new activities alongside the introduction of two new purpose partners this December. This line-up of new activities will definitely be the talk of the KidZania city and provide even more reasons to visit Malaysia's foremost edutainment facility dedicated for children!
KidZania Kuala Lumpur warmly welcomed – KODOMO, the children's oral care brand that is trusted by generations of mothers and Optimax, Malaysia's most recognized eye specialist centre into the KidZania family with the handing over of the Keys to the City, a symbolic honour traditionally bestowed by the KidZania city upon esteemed purpose partners.
With these two new partners in tow, kids will not only gain the opportunity of stepping into the shoes of an Optometrist or Dentist, they will also gain invaluable life lessons through hands-on learning. This includes learning the importance and benefits of dental hygiene and maintaining good eye health, which are important aspects of overall healthy habits that can often be overlooked and should be instilled in young minds.
"Here at KidZania, we are constantly coming up with fresh ideas and engaging activities together with our new and existing purpose partners. I'm certain that these new role play activities will be a hit among the children as they now have something new and exciting to explore and learn. What better way to get our kids learning than through play! It is a proven concept where kids do pick up new skills and instil new habits through hands-on experiences and engaging learning modules such as the one KidZania offers. There are plans in place for more stimulating activities to come in the future, so do keep an eye out for it," said Philip Whittaker, CEO of Sim Leisure Group.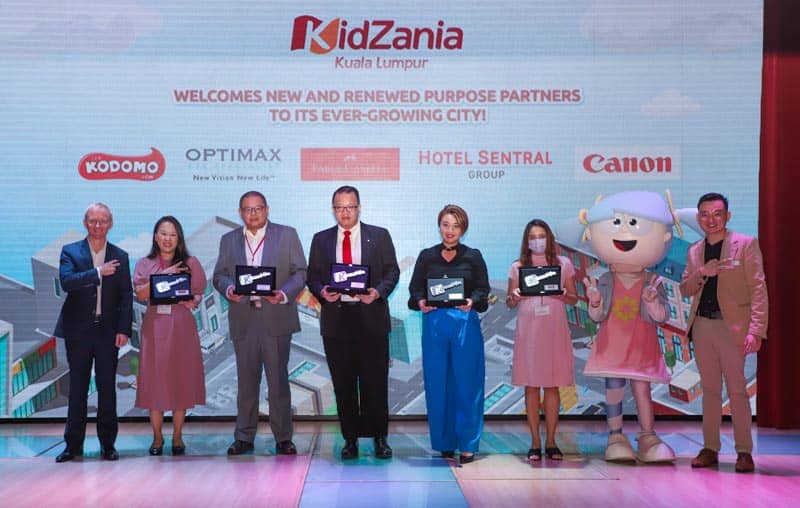 In line with KidZania's relentless pursuit of nurturing young minds to take on the world, the KODOMO establishment will feature a Dental Check activity where young participants can become a dentist for the day. They will also learn how to care for their teeth and the importance of brushing and flossing daily. Aside from this, kids will also learn about the types of food that causes cavities or cause harm to their teeth if left unbrushed after eating.
Over at Optimax, kids will be able to learn about the importance of sight and how to care for their eyes. This is crucial especially in this technology driven era where a majority of kids are glued to the screens. They can choose to take on the role of an optometrist to diagnose, examine and treat a customer's eyes or be in the shoes of a customer. In this activity, kids that want to try their hands at being an optometrist will be given the opportunity to examine, diagnose and treat their patient's eyes. Meanwhile, those in the role of the customer will undergo an eye check by the optometrist.
Built to be a city of dreams for young minds, KidZania provides kids with an avenue to obtain hands-on fun and interactive experiences, setting the path towards possible future careers and also to give them a taste of real-life experiences.
Meanwhile, the event also saw existing partners; Faber-Castell, Canon and Hotel Sentral receiving their Keys to the City as a symbol of a renewed partnership with KidZania Kuala Lumpur. These well-loved existing partners promise to inspire young minds with their new line up of activities that will provide a better insight to their profession, the brand and what they do.
With Hotel Sentral, there are two activities set up – Hotel Room Service and Concierge. Seeing as how kids just love the idea of a hotel stay, these activities will be extremely fun for them as they would be able to check-in guests in the lobby or learn what makes a hotel room so comfortable at the Room Service section.
Faber-Castell on the other hand has three activities lined up for crafty minds that focus on cultivating creativity and learning. The fun and engaging activities are Blow Painting Art, Glow in The Dark Art and DIY Stickers, where kids can try all the different creative techniques and bring home with them their arts and crafts. Through the combination of science and art, these activities will spark curiosity and encourage kids to think creatively.
Meanwhile, Canon's activities will engage little participants in two activities such as Bird Photography with its Canon PowerShoot ZOOM and also learn about Vlogging with its Canon PowerShot PICK. These activities are in line with KidZania's aim of keeping up with the changing times especially in this digital world where vlogging is now also considered a profession.
More information about the activities can be found at https://www.kidzania.com.my/.