The 90 years of Play celebration takes another turn as the LEGO® Group brings the LEGO® Imagination Playground to The Mall, Mid Valley Southkey!
Johor Bahru, 19 July 2022 – LEGO fans down south can look forward to the second physical installation of the Imagination Playground at The Mall, Mid Valley Southkey, from 20 to 31 July 2022. With various play-centric stations and activities for the public to engage with, LEGO Imagination Playground is a must-visit for both children and adults.
"After the success of the LEGO Imagination Playground at Mid Valley Megamall in Kuala Lumpur, we're pleased to be extending this experience to the Southern region where we have so many passionate LEGO fans. We're also delighted to partner with The Mall, Mid Valley Southkey as we believe it is the ideal venue for celebrating 90 Years of Play within the region" said Rohan Mathur, Marketing Director of LEGO South East Asia.
Imagination Playground will showcase the endless potential of play and highlight why play matters in child development. Aside from fun activities such as the Cupcake Making Zone and Build & Race Zone, there are also stations that will transport visitors back in time as they revisit key milestones in the company's history. One such station is The Memory Lane, which takes a look at the brand's 90-year history as well as The Tiny Block Theory, which details the history of the iconic LEGO Minifigure.
At the Endless Creativity Zone, LEGO fans can unleash their creativity and share their well wishes with LEGO DOTS bricks. Be it a LEGO build of multi-coloured jewellery or a heart, the Imagination Playground immerses itself into its venue by showcasing unique builds from brands within The Mall, Mid Valley Southkey at the Mall Tenants' Creation Zone for all to see. For certain zones you can walk away with goodies by participating in the various activities.
The LEGOLAND booth will have exciting exclusive promotions, those that buy 3 LEGOLAND Triple Park Annual Passes will get a RM100 F&B Voucher. Purchase 4 Triple Park Passes and get even more value with a RM 150 Voucher, coupled with ONE Year of Access to LEGOLAND Theme Park, Water Park and SEA LIFE gives you the best value & fun moments with the entire family!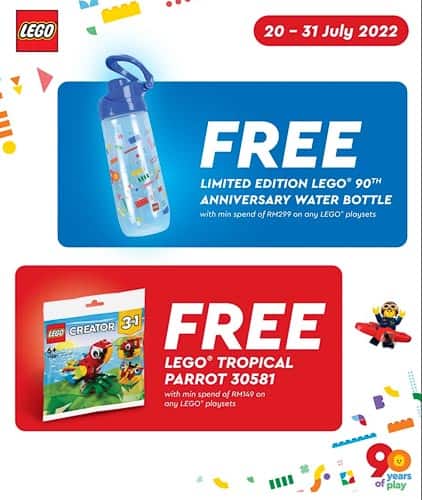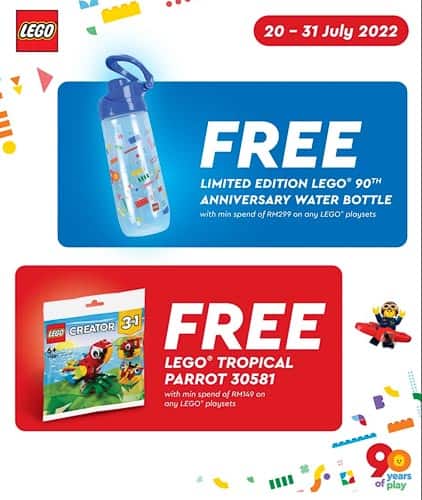 The celebration doesn't stop there! Between 20 and 31 July, visitors to the LEGO Imagination Playground can look forward to redeeming a limited edition LEGO® 90th Anniversary Water Bottle with a minimum spend of RM299 or a 30581 LEGO® Tropical Parrot with a minimum spend of RM149. In the same period, those that spend a minimum of RM600 at any of The Mall, Mid Valley Southkey's specialty stores, can redeem a free LEGO 90th Anniversary Tote Bag. Last but not least, until 24 July, nationwide customers can also enjoy 25% discount on selected LEGO sets purchased in-store. All of the above-mentioned offers are available while stocks last.
Take a walk down memory lane with 11021 LEGO Classic 90 Years of Play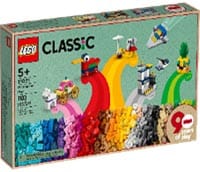 Kids, adults and grandparents alike will love the 11021 LEGO Classic 90 Years of Play. Launched in celebration of the LEGO Group's 90th Anniversary, this iconic 1,100-piece playset has something for everyone, from the 1932 Duck to the 2020 Pineapple Pencil Holder. With 15 mini build recreations and extra bricks for free building, families can have hours of fun and nostalgia. You can choose to recreate iconic LEGO models such as 1998's Secret of the Sphinx, 2013's LEGO® NINJAGO® Golden Dragon, or simply let your creativity and imagination run free!
Get ready to spend quality family playtime with more LEGO play
In today's technology-driven world, screen time among kids can be higher than ever. Keeping your children away from digital devices and screens may seem tough, but with LEGO play, even the most distracted of kids can be occupied for hours. To get you started, the LEGO Group has curated a list of sets to inspire you to spend quality family time. The relevance of these sets to our daily lives will bring a sense of familiarity and home to both our little builders and their parents.
Little builders who have a passion for play will be able to recreate the fun thrills of the outdoor pool with the 41720 LEGO® FRIENDS Water Park and action-packed creative play with the 60320 LEGO® City Fire Station.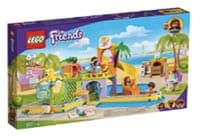 The younger ones at home can enjoy 10974 LEGO DUPLO Wild Animals of Asia, while the 71775 LEGO® NINJAGO Nya's Samurai X MECH is perfect for fans looking to recreate action from the NINJAGO®: Crystalized TV series. Those who prefer the arts over action are not to be left out either. With 41961 LEGO DOTS Designer Toolkit – Patterns, kids can assemble and create endless designs on the items to express themselves however they like.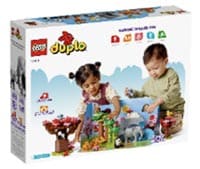 For more exciting sets for even greater quality playtime, please refer to the Editor's note appended below.
Follow the hashtags #LEGO90Years, #LEGOMY, #YouDOTYou, #midvalleysouthkey or visit https://www.lego.com/en-my/90-years-of-play to join in the fun!