Calling all Japanese culture fans: Sushi pull back cars now available for purchase on Amazon.com!
Novelty and food replica company Kitamura Sample introduced Sushi Boon pull back cars in Japan in 2017. Sushi Boon, the world's fastest sushi , will be available to North America on Amazon.com under the store name "GOOD CHOICE TOKYO https://www.amazon.com/s me=A2BPPUTAFI5C9S&marketplaceID=ATVPDKIKX0DER starting 28th September 2020.
Sushi Boon are spring powered pull back cars in the shape of sushi replicas. P ull the car backwards to wind the inner spring and let go to see it zoom forwards with great force. With a compact size of Length 6cm /2.36in × Width 3cm /1.18in × Height 3.2cm /1.26in , anyone can use Sushi Boon anytime, There are 9 kinds in total, available as singles , sets of 3 and the full set of 9.
Sushi Boon are realistic sushi replica pull back cars that can be enjoyed by children and adults. Race the F1 sushi circuit with your friend s Watch in awe as sushi races at incredible speeds before your eyes! There are 9 varieties of sushi, including egg, shrimp, salmon roe, sea urchin, fatty tuna, salmon, saltwater eel, horse mackerel and coldwater prawn! There's a favorite for everyone!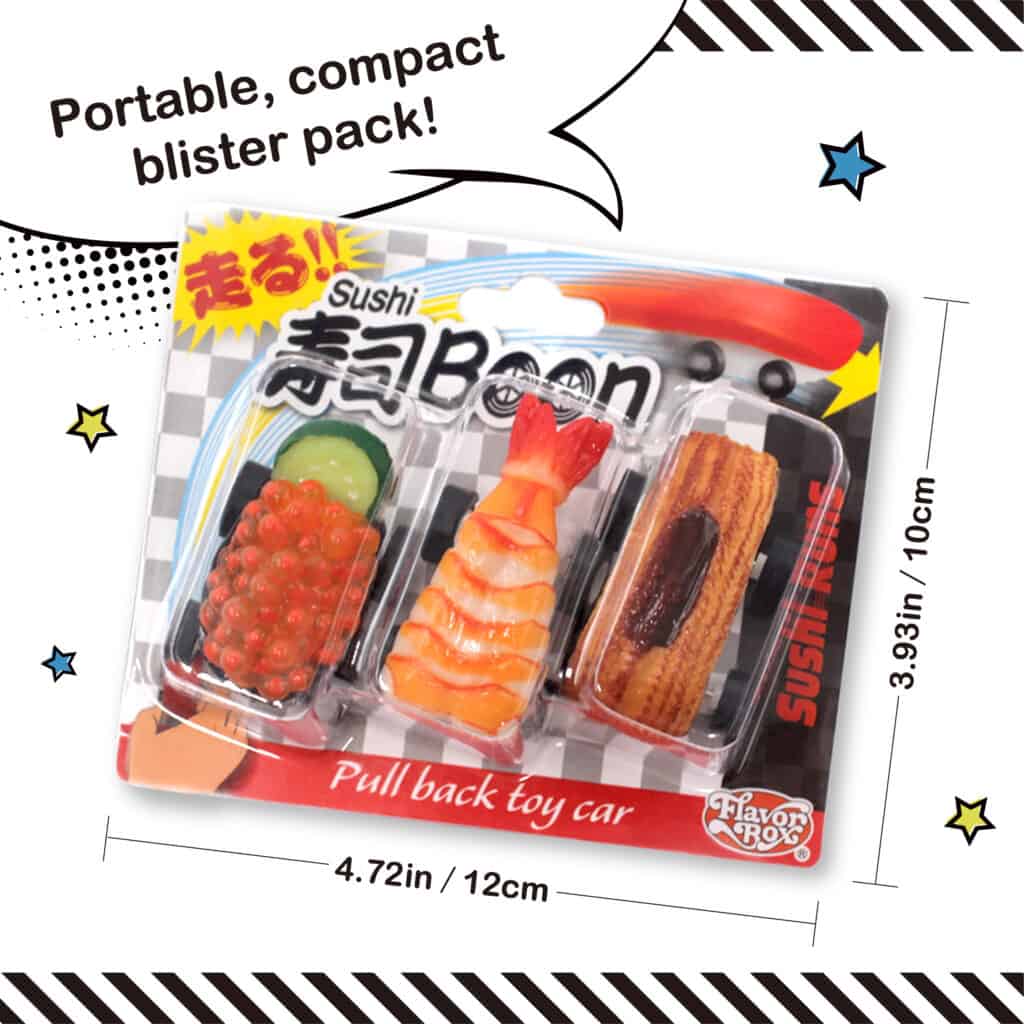 Plastic food replicas are a traditional Japanese craft that is popular o
verseas. T hey are the perfect gift for people who like sushi and Japanese culture. Great for office and house parties too!
See them, feel them, race them. These fun sushi replicas are sure to lighten the atmosphere. And of course, they are
made in Japan!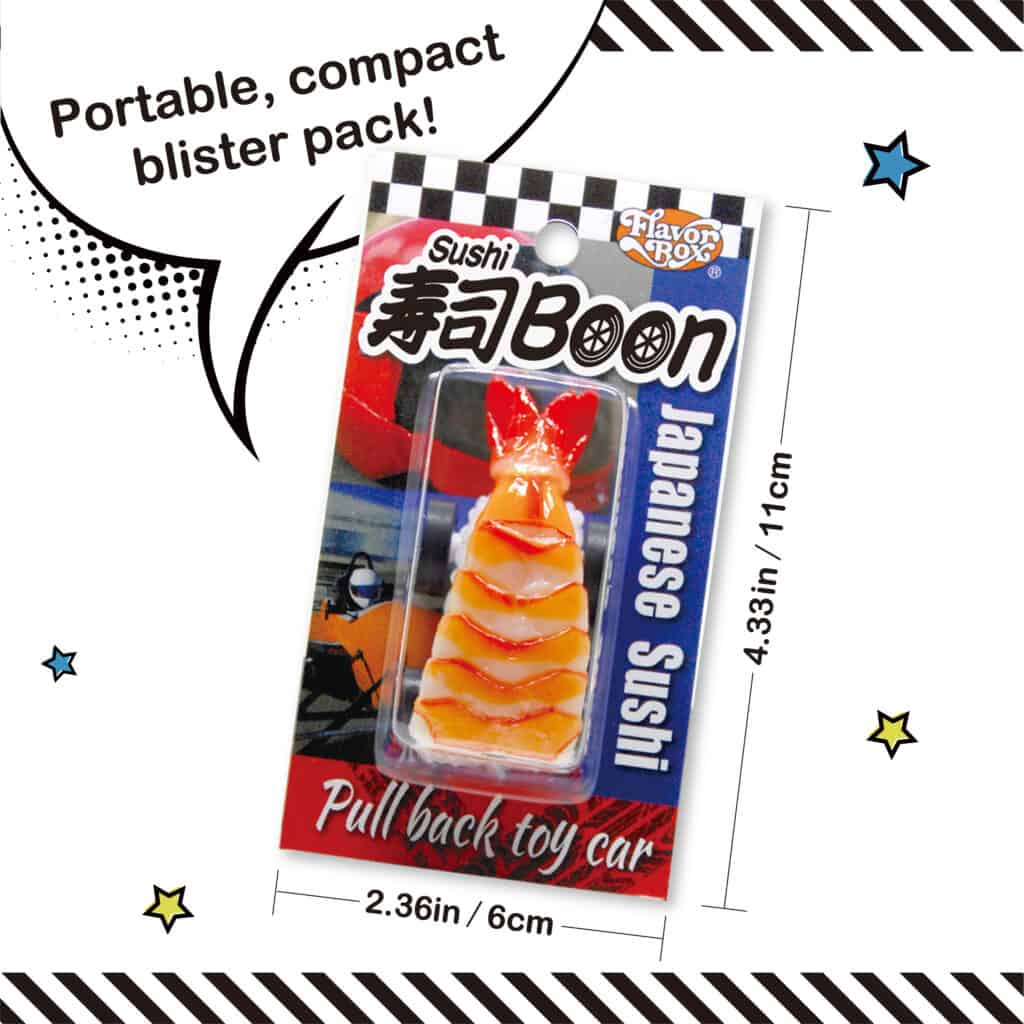 Sushi replicas are a famous Japanese souvenir. The sushi replicas on top of the chassis are handmade by food replica experts. Japan's renowned food replica technology is used, with realism and brilliance that will surprise even master chefs. To evoke reali sm in the sushi models, expert craftsmen build them one by one, adding layers of rich color and depth They look delicious, so be careful not to eat them by mistake.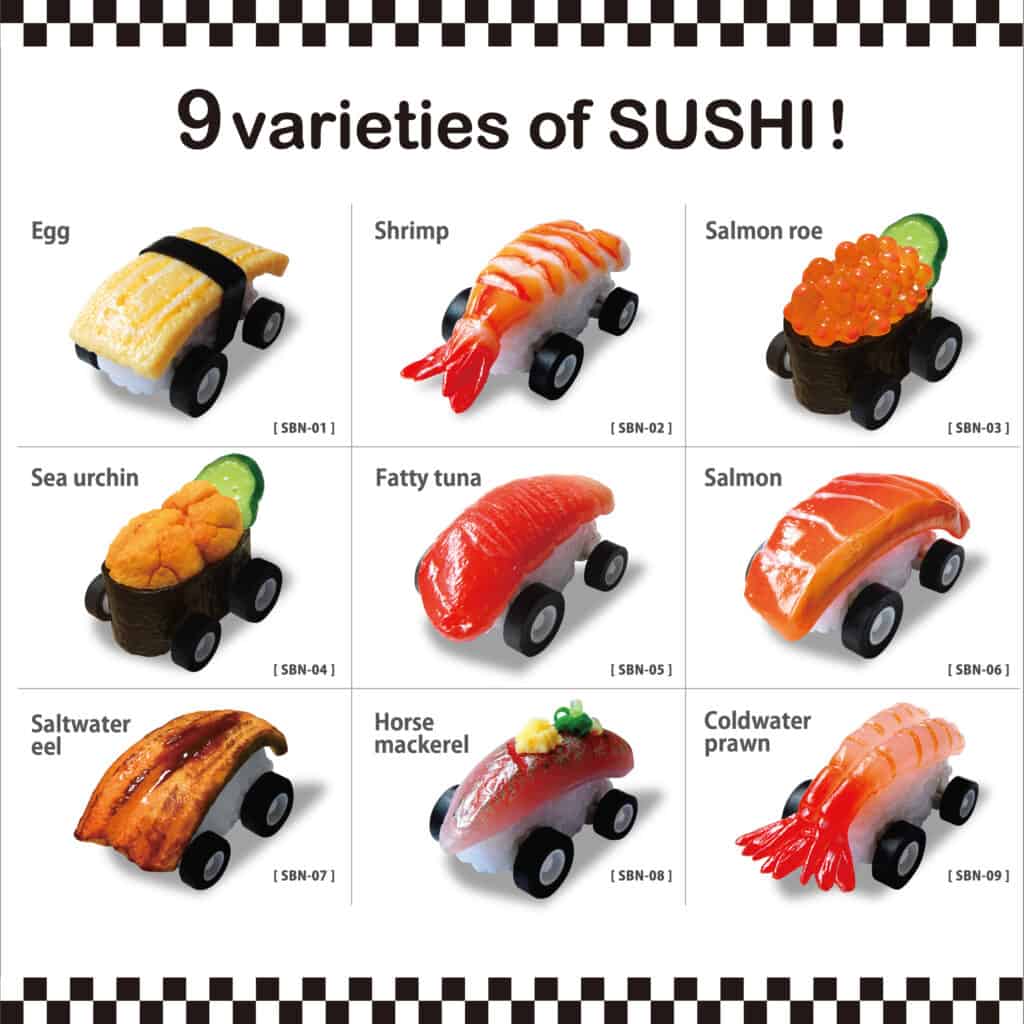 Comes in 3 different sets of 3!
Set A: Salmon roe, shrimp, saltwater eel
Set B: Salmon, coldwater prawn, sea urchin
Set C: Egg, horse mackerel, fatty tuna. Battle you friends to see who is faster. Who will win the F1 sushi race?
Kitamura Sample produces promotional characters, novelty and bridal related products, and is responsible for products' planning, development, sale, wholesale and OEM production. With the increase of inbound demand, Kitamura Sample aims to please by adding traditional Japanese cult ure to its "omiyage" products including sushi magnets and keychains.
Good Choice Tokyo also has a Twitter account! Centered around Japanese culture, content includes food, travel , art and more, as well as information about original food replica products. Those interested may follow on Twitter https://twitter.com/ChoiceTokyo