Kuala Lumpur, 19 January 2022 – This Chinese New Year, ring in the Year of the Tiger by treating yourself and your loved ones to crunchy and tasty Miaow Miaow snacks.
As a snack food company that has been a part of many generations within a household, Miaow Miaow is delighted to spark great memories as families reunite and rebuild bonds this festive season.
Miaow Miaow is a family-owned business founded by brothers Mr Chink Poh Cheng and Mr Chuang Poh Lim, who believe that sharing packets of Miaow Miaow snacks will bring back memories of childhood days and make reunions more meaningful.
According to Mr. Chink, the pandemic has changed the way we celebrate festive seasons, but some traditions have only become stronger and more relevant. "The one thing that hasn't changed among Malaysians is the spirit of gifting. We hope gifts of Miaow Miaow snacks will allow older family members to reminisce about the good old days as they introduce the snacks to their children and grandchildren" he said.
Gifts during Chinese New Year are a sign of respect and have great significance, symbolising abundance and good luck for the year ahead. They can represent anything from harmony, prosperity and longevity. By gifting Miaow Miaow snacks, one can symbolise joy, love and happy memories.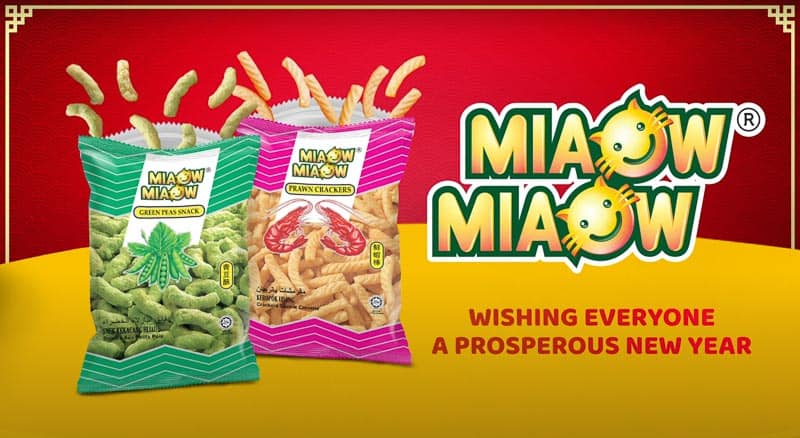 Among Miaow Miaow's most popular and beloved snacks are the Prawn Crackers, Green Pea Snacks, Cuttlefish Flavoured Crackers, Potato Chips, Cheese Flavoured Rings, Hot & Spicy Flavoured Snacks and Chicken Flavoured Crackers.
Miaow Miaow's best-selling Prawn Crackers, made from fresh prawns are undoubtedly a crowd pleaser. A major staple in Chinese New Year Meals, prawns symbolise happiness as the Cantonese pronunciation "har" sounds like laughter. Meaning the more you eat the happier you and your family will be in the new year.
This Chinese New Year, get a hold of Miaow Miaow snacks from major retailers in AEON, Econsave, Giant, Mydin and The Store, and create a joyful gift for your loved ones.