Save up to RM1,900 and get Touch 'n Go (TNG) vouchers worth up to RM700
Kuala Lumpur, 11 April 2022 – Toshiba TV Malaysia has recently launched its Sinar Raya Bersama Toshiba TV campaign from 10th April 2022 till 31st May 2022 in conjunction with its 70th Anniversary and the Hari Raya festive season. Malaysians will be exposed to an attractive gift with purchase promotion and discounts up to RM1,900.00 during the campaign. Selected television(TV) models entitled for the promotions during this campaign are Toshiba TV Z770, M550, C350 and V35 series.
As one of the world's famous television (TV) brands, Toshiba TV has always been committed to providing quality TVs that deliver excellent theatre quality audio-visual to their customers from the early days of the organisation. From producing the black and white TVs to colour and LCD TVs as well as the upcoming Smart LED TV supported by the latest Smart OS system VIDAA, Toshiba TV is constantly looking for innovative ways to improve customers' TV experiences, both technically and design.
Toshiba TVs have always been known for their incredible picture quality and heart-shaking sound paired with Android system to deliver the best entertainment features. Toshiba's M550 is one of the best examples as it is their best seller of the Ultra HD 4K TV series that comes with a naturally vivid Wide Colour Gamut display and pure exciting sound provided by the REGZA Power Audio Pro. Malaysians who would like to go for a bigger experience on Raya can seize this opportunity and purchase the M550 65" UHD 4K TV for only RM3,799. Besides, they can also get a complimentary RM100 Touch 'n Go (TNG) voucher to share such exciting audio-visual experiences with their friends and family during this festive season.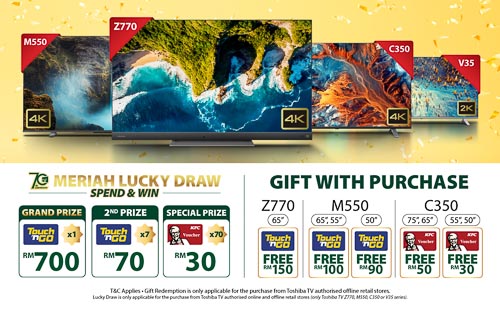 70th Anniversary MERIAH Lucky Draw
Customers will be rewarded with a lucky draw opportunity upon purchasing the entitled TV models in the Sinar Raya Bersama Toshiba TV campaign via Toshiba TV's authorised offline dealers and online stores. Those who join in the lucky draw can stand a chance to win a series of prizes which include, one grand prize of RM700 TNG voucher, seven second prizes of RM70 TNG vouchers and a whopping 70 special prizes of RM30 KFC vouchers. To participate in the lucky draw, customers just have to register their Toshiba TV warranty and submit proof of purchase on the official website.
Gift with Purchase Redemption
Apart from the lucky draw, all customers will receive a free TNG or KFC voucher for purchase of selected Toshiba TV in the Z770, M550, or C350 series (excluding C350 43") via authorised offline retail stores. Customers can redeem the gifts simply by registering their TV warranty on Toshiba TV Malaysia's official website.
At Toshiba TV, they pride themselves on their Japanese fine-tuned and designed iconic core processor, REGZA Engine. It allows all devices to provide stunning picture quality for an ultimate viewing experience. Toshiba TV has been consistently maintaining the outstanding quality of its TVs across the global manufacturing plants according to its brand personalities and commitment, "Be Real, Be Brilliant". As a result, they produce TVs with exquisite craftsmanship that meets the current modern lifestyle needs and keeps up the industry's leading position. Visit Toshiba TV Malaysia's official Facebook page for more details on the Sinar Raya Bersama Toshiba TV campaign. Stay tuned to their Instagram account @toshibatvmalaysia, and their official YouTube and TikTok account for the latest product information.