In conjunction with International Day of the Girl, international humanitarian organisation World Vision has launched "Girls who Dared to Dream". The book captures the lives of 10 fearless girls who overcame familial, communal, social and cultural boundaries to raise awareness of issues facing girls.
Below are excerpts from the book on how these young ladies are pursuing their dreams and changing the world they are in. If any of the stories interest you and you would like to interview the girls featured or talk to World Vision Malaysia about the book we would be happy to arrange on your behalf.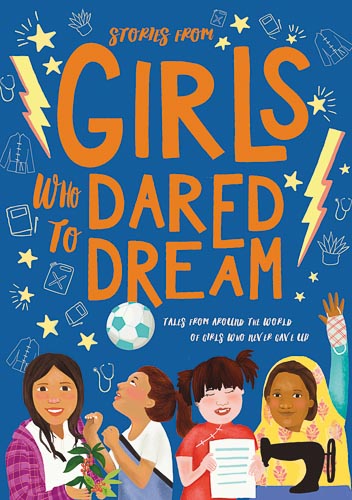 "Girls who Dared to Dream" is part of World Vision's 1,000 Girls campaign. The campaign aims to empower 1,000 girls to live free of fear and achieve their dreams. More information on the campaign can be obtained from worldvision.com.my
The 10 girls and their stories:
1.       Building up confidence through learning new skills (Bangladesh)
Story of how Rifa overcame family discouragement to follow her interest in martial arts
Her bravery is empowering more children in the community to dare to be different!
2. Being the leader in the community – Advocating on child rights (Honduras)
As the youth mayor, Nahomy decides to speak up on children's rights and work together with the community to advocate it
Her determination brings her satisfaction when more children are empowered to fight for their rights
3. The warrior of Clean Water (USA)
Realising how dangerous it could be for a child to walk afar for water, Addyson from USA successfully raised more than US$130,000 to install clean water pumps in Kenya
4. Starting from the beginning, for a greener future (India)
Kanishka wants to create a green future with the support and participation of her community
She started to educate the community about climate change and the importance of a cleaner environment
She also worked with the city's authorities to change laws – to ensure the community can sustain a green future
5. Fighting against the pandemic (Philippines)
Lenny has always been keen to volunteer, to lend a helping hand to those in need. 
She and her friends were encouraged by those in their community to learn new skills and move ahead with confidence
Thanks to the support of those around her she enrolled to study as a nurse and midwife.  She is now a frontliner in the fight against COVID-19
6. Saved from becoming a child bride (Zambia)
When the pandemic struck, Mwila had to stop studying and gave up her dream of becoming a nurse.  She nearly became a child bride to help her family survive
Through a local youth class, she realised she can still make her own decision and not give up on her dream
Inspired by her mother, she decided to learn sewing instead and is today a successful tailor in the community
7. The poet who can't enjoy the beauty of nature (China)
Overcoming discriminations as a visually-impaired person, Xiaobing found her voice as a poet and writes beautifully of the world she has never seen
Today she can dream of a future and wants to be a teacher when she grows up  
8. Becoming a community hero during the pandemic (Bangladesh)
Without proper education, Akhi started her own sewing business with the goal of owning her own garment factory
When the pandemic hit, she started sewing face masks to sell to the community at an affordable price. But if people couldn't afford them, she gives them the masks for free
She is a real-life hero who received an award from the United Nations for keeping people safe from the virus with her face masks
9. A passionate teacher who inspires her students to believe in themselves (Uganda)
Elizabeth met a lady who helped her to overcome her struggles in life.  Thanks to her "mentor", Elizabeth successfully finished her studies and became a teacher.
Today, she is challenging her students, especially the girls, to aim high – just as her mentor inspired her
10. Achieving dreams through reading (Cambodia)
Lina started her learning journey through football – a game often associated with boys.
The game showed her the importance of planning especially for her future and making decisions
In fact, her whole community changed when they started to implement teaching and learning through football