Xanadu's Merdekaverse presents newfound "freedom" in a completely "phygital" 21-day celebration, live and in real-time
Kuala Lumpur, 25 August 2022 – Throughout Malaysia's 65 years of independence, Malaysians from all walks of life have celebrated this iconic day in a variety of ways, except for one – in the metaverse! But that's about to change with the digital world's first ever national day jubilee. The four-week-long virtual festival celebrating national pride and all things Malaysiana will feature music, games and virtual interactions unlike anything experienced before, marking what could be a historic moment in itself for our beloved country.
The Merdekaverse, as the celebration is called, will provide a truly immersive experience, in every sense of the word, unlike anything ever experienced before. As opposed to other virtual events, the Merdekaverse presents a highly engaging, all-encompassing and riveting extravaganza that will break down barriers between Malaysians and the metaverse. For most, this would probably be a first experience of its kind. And the best part is, participation is absolutely FREE of charge and is easily accessible using a laptop or desktop computer and perhaps a good set of headphones to optimally experience the Merdekaverse in all its splendour and glory, right in the comfort of the home. Just a few clicks and you're in – quite literally!
Imagine reliving that iconic day, being right there at the Merdeka Stadium where Malaysia's Father of Independence, Tunku Abdul Rahman, emphatically chanted "Merdeka!" Or what about being right in the heart of a beachside concert reliving the legacy of Malaysia's beloved "Singing Lawyer" – Sudirman? Sounds quite far-fetched, but this is exactly what participants of the Merdekaverse, as the celebration is called, can experience very soon in a "phygital" (a special term denoting the combination of the physical and digital realms) experience that simply has to be experienced to be appreciated.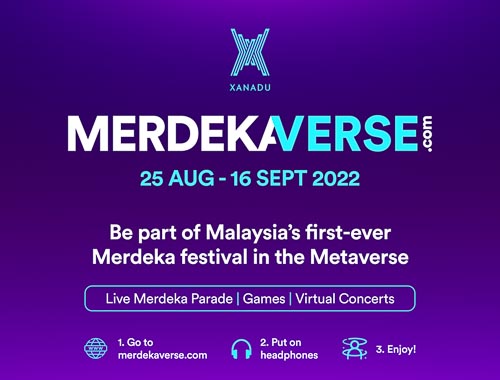 The Merdekaverse will happen live, in real time. There will be no repeats or replays. What that means is that if you miss any moment, you won't be able to experience that same moment ever again. Every second will be unique in itself. Basically, the Merdekaverse will feature everything all one might expect at a physical celebration of Merdeka Day, but with so much more! From 25 August 2022 till 16 September 2022, there will be daily events happening within Merdekaverse in which Malaysians will be able to participate.
As the clock strikes 12am on Merdeka Day (31 August), the Merdekaverse will transform into revelry and merriment of unprecedented proportions in the metaverse, replete with fireworks and a parade that participants will experience as if they were right there in the heart of all the action and excitement.
Think of it as your internet going 3D. For instance, participants can view the parade from whichever angle they wish, or hear the difference in sound of the fireworks, based on their location, or even follow Tuanku Abdul Rahman around, even after he has finished his iconic Merdeka chant. Every experience in the Merdekaverse is unique to each participant.
The Merdekaverse marks the debut of Xanadu, a humanity-centric Spatial Computing platform, known for creating some of the most well-known immersive experiences in Malaysia, such as the Tiger Virtual Street Food Festival 2020. At its core, Xanadu as an alternate social platform where people can be instantly immersed into culture and entertainment.
Xanadu also presents a unique platform for brands, such as previously done with Tiger, and an upcoming collaboration with Sony Pictures to build a series of exciting movie-themed activities on Xanadu. The platform also provides creatives the opportunity to express their artistry and works in new and captivating ways never possible before. Xanadu's debut with the Merdekaverse aptly encapsulates everything that Xanadu represents – "freedom".
"We're talking about freedom in every sense of the word. Freedom for Malaysians to socialise without the fear of their privacy being invaded or being interrupted with intrusive advertisements. Freedom for Malaysian creatives to express their artistry and showcase their works in new captivating ways – without an intermediary suppressing their revenue streams. Freedom for brands to engage their consumers with boundless creativity – without the constraints of existing social media platforms," said Ivan Gerard Khoo, Xanadu.asia's Chief Executive Officer.
"In other words, the Merdekaverse embodies this new freedom that we can all have in the metaverse – which all Malaysians can experience together as a united people while supporting one another – with artists having the freedom to make more. This is essentially the first ever national day event in the metaverse!" he adds.
Malaysians from all walks of life are invited to take front row seats in the Merdekaverse for the celebration, which will also feature unique light and sound shows, as well as specially curated and Malaysian-themed games and activities including the '7-Day Malaysian Treasure Hunt', 'KLCC Climb', 'Lari Sampai Pengsan' and 'Banjir Surf'. Winners of these games will receive "Tezos" coins, a unique Xanadu-based cryptocurrency that can be used to purchase high value and rare Non-Fungible Tokens (NFTs). While registration is not required to experience the Merdekaverse, the first 500 participants who register will also receive 1 Tezos coin each.
For more information, follow Xanadu.asia on Facebook, Twitter, TikTok, Instagram or at www.info.xanadu.asia.