Elevating user's smartphone experience with a stress-free and secure way to make payments with HUAWEI smartphones
KUALA LUMPUR, 17 November 2020: Improving HUAWEI users' life by bridging it with an all-connected intelligent smartphone experience, HUAWEI announced the arrival of HUAWEI Pay in Malaysia, in partnership with UnionPay International and Industrial and Commercial Bank of China (ICBC). Payments are now made easier and more secure by simply adding one's bank cards to HUAWEI Pay.
HUAWEI Pay is a mobile payment tool that provides contactless, cashless payment service for HUAWEI smartphone users. It was first introduced in August 2016 in China as a mobile payment service rooted on HUAWEI Wallet, as part of the HUAWEI Mobile Services (HMS).
HUAWEI Pay is one of the key services under the HUAWEI Wallet application that supports the Near Field Communication (NFC) payments in retail stores. Users can enable HUAWEI Pay by adding their ICBC UnionPay Credit Cards to HUAWEI Wallet app and transact conveniently by tapping their HUAWEI smartphones to the payment terminal.
Following the footsteps of his counterparts in Hong Kong (China), Macau (China), Singapore and Thailand, ICBC (Malaysia) Berhad teams up with HUAWEI and UnionPay International to bring this service to Malaysian shores, making it the first financial institution in Malaysia to support HUAWEI Pay.
Via the partnership, ICBC UnionPay Credit Cardholders will be among the first in Malaysia to experience this smooth, reliable payment method on their HUAWEI[1] smartphones.
Pay with a single tap
By using any HUAWEI smartphones that supports NFC, ICBC UnionPay Credit Card holders can tap their HUAWEI smartphones to the payment terminal that supports UnionPay QuickPass (Contactless) payments.
Instead of having the need to unlock their phone, application or even connect to the Internet, users can opt to make in-store payments by holding the HUAWEI smartphone close to the payment reader. Once the fingerprint is authenticated the payment is done.
HUAWEI Pay users are able to make payment at over 20 million payment terminals with UnionPay QuickPass logo(
)across 51 countries and regions around the world. With more than 30 HUAWEI smartphones equipped with HUAWEI Pay, users need not worry about being left out.
In Malaysia, HUAWEI Pay users can tap their phones for Contactless payments at the following familiar merchants, with more to come!
| | |
| --- | --- |
| Category | Merchant |
| Fashion | SuperdryLa SenzaG2000TimberlandVansLevi'sCotton OnLacosteMarc JacobsFashionValetGiordanoArmaniEmporio ArmaniDKNYCalvin Klein |
| Food & Beverage | McDonald'sKFCPurple Cane TeaAcme Bar & CoffeeEnoshima Japanese RestaurantYuzu Japanese RestaurantOzeki BistroYa Shi No Mi CaféDunkin DonutsDin Tai Fung |
| Beauty & Cosmetics | YSL Beauté BoutiqueLancômeTHEFACESHOPChristian DiorNu SkinSkin TownSephora |
| Sport & Others | Royal Sporting HouseSports DirectNikeAdidasReebokPumaToys"R"Us |
| Groceries | ParksonIsetanNSKFamily MartVillage GrocerKk Mart99 Speedmart |
HUAWEI Pay comes equipped with multiple security guarantees; for example, a device-specific number known as a token is used instead of bank card number to handle payments. Every transaction has to be authenticated by the user's fingerprint or passcode. When user pays with a debit or credit card, HUAWEI Pay doesn't keep the transaction information that can be traced back to user, which greatly reduces the risk of data leakage and effectively guarantees the security of user information and funds.
When a user adds a card to HUAWEI Pay, a device-specific number (token) instead of bank card number, will be encrypted and stored separately in the security chipset of the user's smartphone. The security chipset provides a completely isolated running space for sensitive data to avoid malicious behaviour that may occur in the non-isolated space. In other words, a user's bank card number is not stored on their device or on HUAWEI Pay servers and is not shared with merchants.
Availability & Promotions
HUAWEI Pay is made available to users starting from 15 November 2020 across selected HUAWEI smartphones:
| | | |
| --- | --- | --- |
| HUAWEI Mate Series | HUAWEI P Series | HUAWEI nova Series |
| HUAWEI Mate XsHUAWEI Mate XHUAWEI Mate40 ProHUAWEI Mate30HUAWEI Mate30 ProPORSCHE DESIGN Mate30 RSHUAWEI Mate20HUAWEI Mate20 ProHUAWEI Mate20 XHUAWEI Mate02 X (5G)PORSCHE DESIGN Mate20 RSHUAWEI Mate10HUAWEI Mate10 ProPORSCHE DESIGN Mate10HUAWEI Mate9HUAWEI Mate9 ProPORSCHE DESIGN Mate 9 | HUAWEI P40HUAWEI P40 ProHUAWEI P40 Pro+HUAWEI P30HUAWEI P30 ProHUAWEI P20HUAWEI P20 ProHUAWEI P10HUAWEI P10 Plus | HUAWEI nova 7 5G |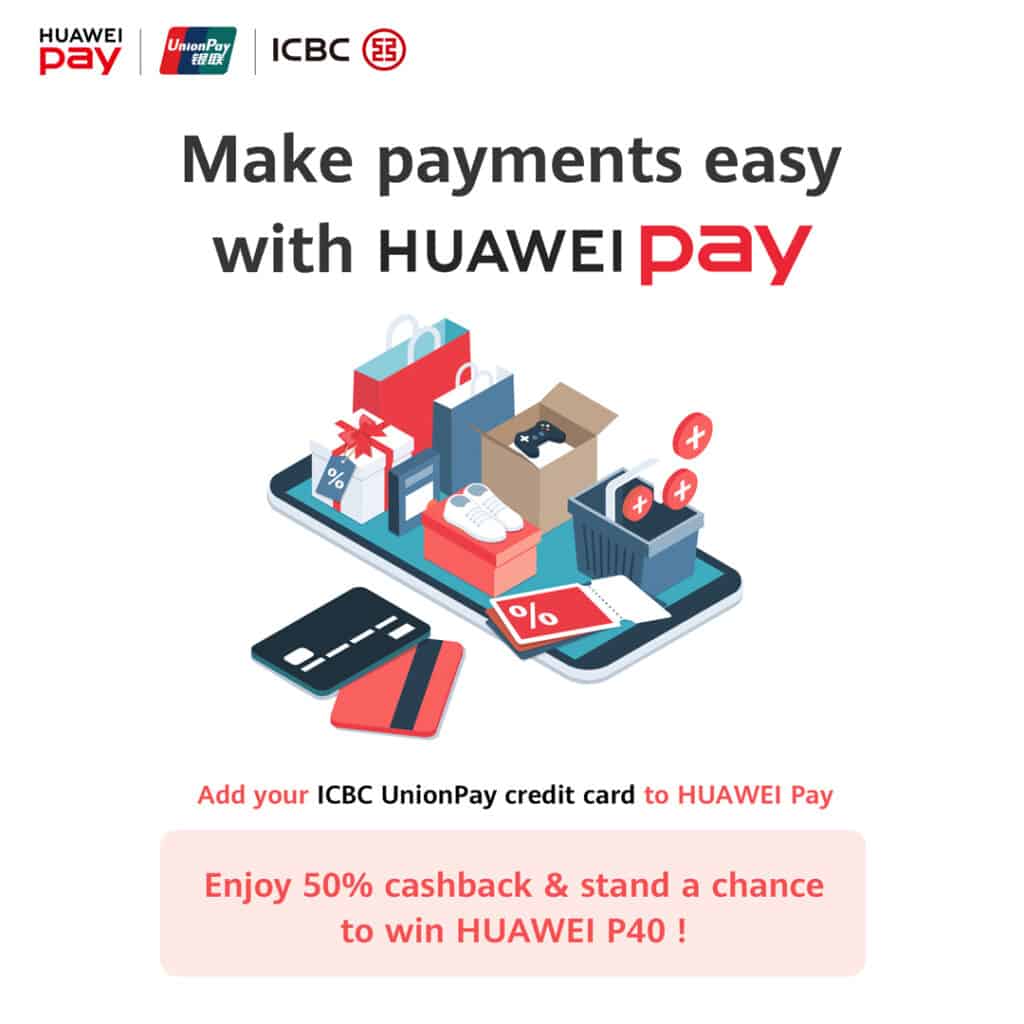 From 12 December 2020 until 12 March 2021, all ICBC UnionPay Credit Cardholders who register their cards with Huawei Pay can enjoy up to 50% cashback for every transaction with a minimum spending of RM20[2].
The top monthly spender will also stand a chance to receive a HUAWEI P40, HUAWEI FreeBuds 3, HUAWEI Watch GT 2E or other awesome prizes[3]!
To find out what other applications are on HUAWEI AppGallery, head over to https://appgallery.huawei.com/#/Featured. Don't forget to keep yourself updated with more information on the all-new HUAWEI Mate40 Series and other amazing HUAWEI products by staying tuned to HUAWEI's Facebook page at www.facebook.com/HUAWEIMobileMY.
---
[1] Only selected HUAWEI smartphone models.
[2] Terms and conditions apply.
[3] Terms and conditions apply.
RAMARAMA ialah portal maya dengan fokus kepada perkongsian daripada usahawan kepada usahawan dan kisah inspirasi dari individu-individu luarbiasa.
RAMARAMA is a Malaysian made lifestyle concept video magazine and online portal focusing on contemporary lifestyle and inspiring stories from extraordinary individuals.
Dimiliki oleh BlackButterfly DesignArts (Co. No: 002093315-W)
Owned by BlackButterfly DesignArts (Co. No: 002093315-W)