You have made the decision to buy a pre-owned car but you're wondering what's the best way to go about it. You're also wary about what or how the previous owner handled the car, or if they have taken good care of the car like you would have yourselves. That is only natural but if you've had a bad experience or heard unfortunate stories of pre-owned cars, let's not allow one bad apple to spoil the barrel.
Here's a checklist of green flags in a pre-owned car that you should look for to help you guarantee that safety, comfort, and aesthetics are equally prioritized for your peace of mind.
Ensure the car was not involved in any major accidents and damages from flood or fire, as well as if there are any legal claims against it. You can also do your research on any recalls by the car manufacturer on the model you're looking at.
Check the body for any deep scratches, dents, rusty spots, or any paint chips. Also, ensure that high-performance paint was used for longer lasting protection.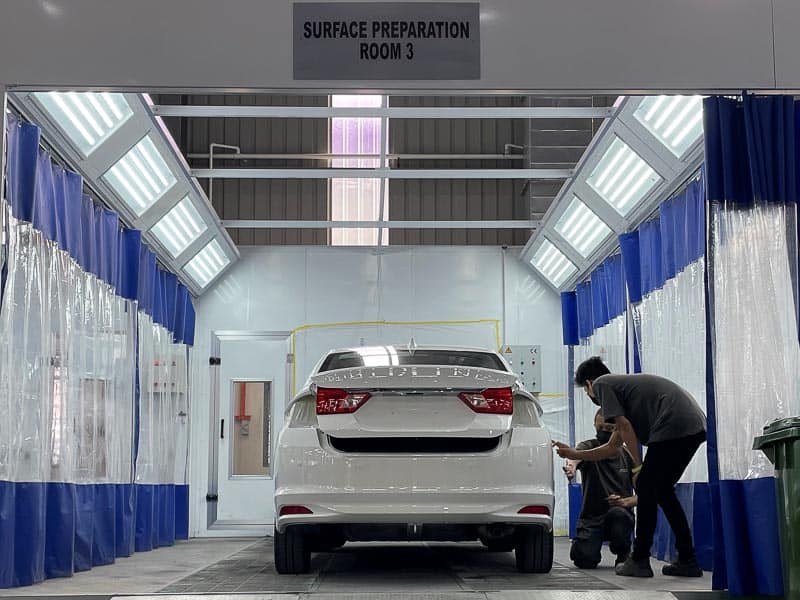 Check the depth of tire treads and thickness of brake pads, as well as the rubber condition and makes of each tire to ensure they adhere to global standards for your utmost safety. The global specifications to look out for are: depth of tire treads must be more than 2.2mm while thickness of brake pads must be more than 4mm.
Besides checking the upholstery for tears, do also inspect the dashboard and electronics for warning lights. Ensure the interior is thoroughly cleaned and sanitized too.
Inspect for any leaks, corrosion, cracked hoses and belts when you pop the hood. Also check the oil, transmission dipsticks, and the exhaust smoke for discoloration. Bonus is if the engine has been washed professionally to prevent it from rusting or any interior passageways to be clogged with debris. A well-maintained clean engine can increase the overall lifespan of the motor.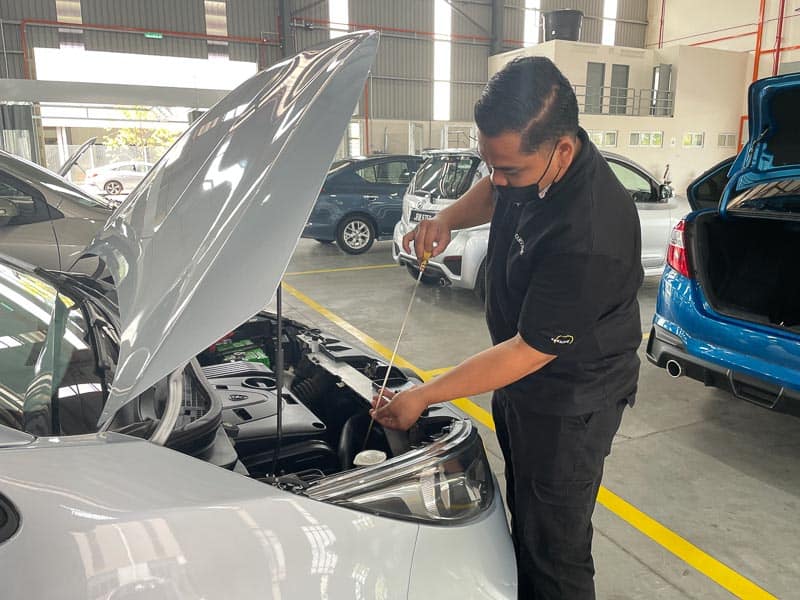 You might be thinking all these sounds too good to be true with small dents and scratches that would come as part and parcel of a pre-owned car. But you might also be surprised to learn that all these criteria are what set the industry benchmark by Carsome to provide good-as-new pre-owned cars that offer quality assurance to new owners.
At Southeast Asia's largest car refurbishment facility, Carsome Certified Lab, each car must go through 175-point inspection prior to refurbishment to ensure it is free from major accident, frame, flood or fire damage. The stringent refurbishment process includes:
Mechanical and general repairs from tires and brake pads to air-condition and wipers to provide peak assurance on safety, comfort, and aesthetics.
A body panel repair and respray with OEM-manufactured paints should the car have any dents. The paint is mixed right in Carsome Certified Lab in the paint mixing room.
An extensive interior and exterior deep-clean comprising body and engine wash, sanitization, wet and dry vacuum, as well as upholstery refurbishment.
And voilà, the car will be road-ready with safety beyond standard, complete comfort, and like-new aesthetics for your total peace of mind. Taking it one step further, Carsome Certified cars also come with a five-day money-back guarantee and a one-year warranty for the extra confidence you need in pre-owned cars. Check out Carsome if you are looking to buy a used car or even sell your car.
This article was inspired by Carsome Certified Lab: Here's How Carsome Refurbishes Pre-owned Cars to Be as Good as New on Carsome.my