Dreamshop and CIMB Bank's special collaboration for Aprilia is in conjunction with the Petronas Grand Prix of Malaysia happening at Sepang International Circuit on 21-23 October 2022
Aprilia models available at Dreamshop are Aprilia SR GT 200, Aprilia SR GT 200 Sport, and Aprilia RS 660 with a 0% Easy Pay plan of as low as RM362 per month
Kuala Lumpur, 13 October 2022 – With the PETRONAS GRAND PRIX OF MALAYSIA (previously known as MotoGP™ Malaysia) fever hitting Malaysia again, Dreamshop makes their customers' dream of owning a brand new Aprilia bike come true! Dreamshop, the homegrown E-Commerce platform and the first with an automotive category, has announced another exciting collaboration with CIMB Bank, offering 0% Easy Pay plan of up to 60 months to Aprilia enthusiasts.
Aprilia is the third two-wheeled model added into the automotive category at Dreamshop after Vespa and Royal Enfield which was added into the platform since October last year. Rosalie Lin, CEO of DCR Marketing, the parent company of Dreamshop said, "It is our honour to work with CIMB Bank since the first automotive brand we launched at Dreamshop. As one of the top banks in ASEAN with an extensive portfolio, CIMB Bank has been very supportive and dedicated to work closely with us towards providing a comprehensive range of financial solutions for our customers. We are proud to be partnering with CIMB Bank to offer an attractive 0% Easy Pay plan of up to 60 months for Dreamshop customers to purchase an Aprilia model via CIMB Bank credit card. We are confident that this exclusive offer will excite sports enthusiasts in celebrating the PETRONAS GRAND PRIX OF MALAYSIA together."
Executive Director of Didi Group Juan Chow Wee said, "This collaboration with Dreamshop is a long term commitment for Didi Group. Leveraging on the partnership with Dreamshop and CIMB Bank, the gains have been greater. With Dreamshop's impressive sales performance for the two-wheelers category, particularly for Vespa and Royal Enfield, we could not agree more that partnering with an e-commerce platform like Dreamshop has become a new norm to market our brands."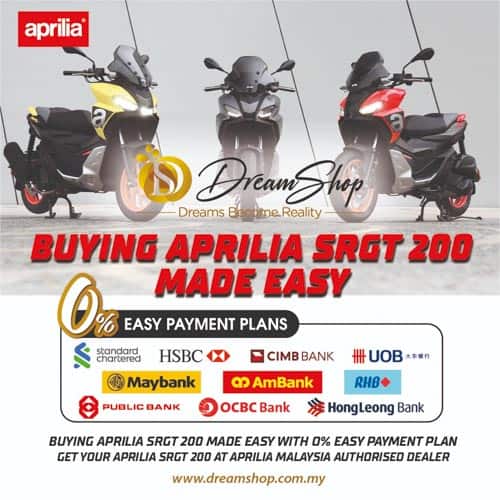 In October last year, Vespa became the first automotive brand to be sold on Dreamshop, followed by Royal Enfield six months later. Both brands have received good acceptance and strong interest from customers.
Aprilia models that will be made available on Dreamshop include:
Aprilia SR GT 200 @ Price as low as RM362 per month
Aprilia SR GT 200 Sport @ Price as low as RM380 per month
Aprilia RS 660 @ Price as low as RM1,270 per month
(The above pricing is based on CIMB 0% Easy Pay plan of up to 60 months)
Additionally, Aprilia SR GT will also be participating in the PETRONAS GRAND PRIX OF MALAYSIA at Sepang International Circuit on 21 – 23 October 2022. Aprilia fans who are CIMB Bank cardholders can enjoy a promotional price at RM499 (regular retail price at RM699) for the Aprilia MotoGP Tribune ticket at Dreamshop to enjoy the race weekend, inclusive of:
3-day pass with 2-day to Grandstand (22-23 October 2022)

Aprilia dedicated bike parking

Food and beverage for Sunday
Promotion is ongoing from today till 17 October 2022 and tickets can be purchased at www.dreamshop.com.my. Terms and conditions apply. Also, Aprilia MotoGP Limited Edition merchandise will be made available at a 10% discount during the event as well! This offer is valid for CIMB Bank cardholders from 5 October 2022 until 23 October 2022 and valid for purchase via Dreamshop as well. Limited to the first 100 redemptions, while stock lasts. Not a CIMB Bank credit cardholder yet? Fret not, apply for a credit card via https://www.cimb.com.my/en/personal/day-to-day-banking/cards/credit-card.html. For more information or to purchase your very own Aprilia pass to the PETRONAS GRAND PRIX OF MALAYSIA or the Aprilia model, log on to www.dreamshop.com.my today!