Kuala Lumpur, 15 December 2022 — Diamond Dotz®, a premier diamond facet art brand founded in Australia, is proud to announce the official launch of its physical concept store in Pavilion Bukit Jalil. This concept store is the first-of-its-kind for the brand in the world, combining shopping with an immersive diamond facet art experience to craft enthusiasts in Malaysia.
As the official distributor of genuine Diamond Dotz® in Malaysia, Singapore, and Brunei, Dotzmania is set to excite arts and crafts lovers in the local community with the launch of the concept store. More than an outlet offering over 400 diamond facet art designs and kits, the concept store is also designed to accommodate demonstrations and workshops of diamond facet art, which is one of the most popular crafts in the world.
Diamonds Are A Craft Enthusiast's Best Friend
Diamond facet art, or more conventionally known as diamond painting, refers to the calming process of applying "diamonds", which are made of small resin jewels, onto a pre-printed adhesive fabric. Beneficial for craft enthusiasts aged 5 years old and above, the diamond painting process will result in mosaic-style art that is sparkling and vibrant.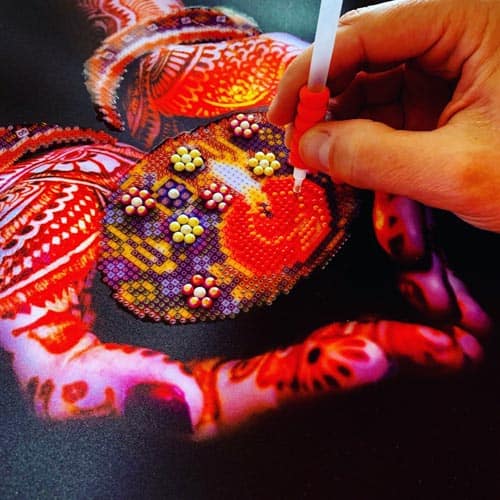 Designed for the best dotting experience, Diamond Dotz®'s facets abide by stringent specifications and are constructed using first grade raw materials to create premium quality 2.8mm epoxy resins. Diamond Dotz®'s facets are unique and are more effective in reflecting light through 13 different surfaces on each facet, creating a more spectacular finished result.
Additionally, Diamond Dotz® uses proprietary adhesive that is engineered by industry experts using high-tech formulas, ensuring facets do not fall off. The use of proprietary adhesive also makes dotting easier, especially on larger designs.
Diamond Dotz® is also officially licensed to distribute copyrighted products featuring notable worldwide franchises such as Harry Potter, DC, Marvel and Star Wars, for use around the world. Additionally, each Diamond Dotz® design is meticulously interpreted by local and international artists and photographers. The brand also produces custom diamond facet art designs for customers.
The Therapeutic Beauty Behind Diamond Facet Art
In addition to the sparkling outcome that can be utilised as beautiful decorative pieces, the benefits of diamond facet art is also best reaped as throughout the painting process. Diamond facet art enthusiasts enjoy it as a therapeutic hobby that promotes mindfulness and relaxation on top of a fantastic way to develop art skills.
"During the Covid-19 pandemic, the local arts and crafts scene was one of the sectors that bore the brunt of the economic decline. Over two years into the recovery, more people have begun realising the benefits and importance of arts and crafts towards one's well-being, especially with more crafts days and festivals popping up. As an advocate of arts and crafts, we hope that the launch of this concept store will be able to attract more enthusiasts to benefit from this joyous pastime," said Lisa Lee, Founder of Dotzmania.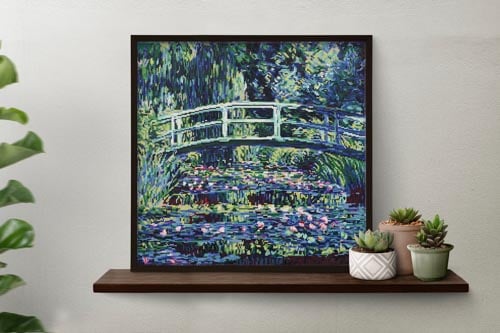 According to experts, arts and crafts activities are proven to have favourable impacts on mental health, including improvements in empathy, self-esteem, resilience, and empowerment. Hence, as an engaging hobby, Diamond Dotz® is a fun way to improve mental health and encourage creative and self-expression to further allow craftlovers to disengage from daily concerns and focus on self discovery and reflection.
"As a newfound life purpose, my aim for Diamond Dotz® is to help more people to experience the feeling of affirmation when they see their artwork come to life. I have also collaborated with psychologists who employ diamond facet art in their sessions with their Parkinson's patients, citing success in helping them with focus and clarity of thought, thus resulting in very productive sessions," Lisa added.
Diamond Dotz® is also the first diamond facet art brand to be certified safe and non-toxic independently, void of formaldehyde, cadmium, mercury, chromium, and abiding by US, Canada, Australia and UK safety certifications.
The Diamond Dotz® Concept Store is open to the public, and is located at Lot P4.27.00 (In front of Daiso) Level 4, Pavilion Bukit Jalil, No.2 Persiaran Jalil 8, Bukit Jalil 5700 Kuala Lumpur. The opening hours are from 10am to 10pm, every day of the week.
For more information on Diamond Dotz, kindly visit www.dotzmania.com, along with their Facebook, Instagram and TikTok pages.