The award-winning Kaspersky Total Security which secures user's online privacy, payments, and data is now available at Malaysia's largest convenience store chain
7-Eleven Malaysia, with more than 2,400 stores nationwide that serves over 900,000 customers daily, adds the best cybersecurity protection product onto its shelf of offerings. With the aim to make security solutions easier to purchase for the highly-connected Malaysians, the chain now sells Kaspersky Total Security in its local stores.
Kaspersky Total Security provides triple-layer protection system that works 24/7 to secure devices and the data stored in it. It blocks common and complex threats like viruses, malware, ransomware, spy apps and all the latest hacker tricks.
According to a market research, consumers are accustomed to shopping online from the time of the pandemic and merchants are benefitting from lower operating costs and round-the-clock sales opportunities. Besides convenience, consumers are looking for enhanced security where personal information remains secure.
Kaspersky, for its part, has detected and blocked 9,170,039 different web threats in Malaysia during the period of July to September 2022.
The global cybersecurity company also prevented 38 million financial phishing attacks during the first ten months of this year.
Kaspersky also found buy-now-pay-later (BNPL) phishing during the recent Black Friday shopping frenzies, where the cybercriminals have created a nearly perfect replica of the official BNPL login page. BNPL services appeal to consumers, especially youngsters.
Yeo Siang Tiong, General Manager for Southeast Asia at Kaspersky commented that 7-Eleven Malaysia is the place where we all go to when we need something, especially at the most inconvenient hours.
"When a customer walks into a 7-Eleven Malaysia store, they can now get the best security solution against all cyberthreats along with their favorite Slurpee. Malaysia has witnessed major data breaches and creative phishing attacks that involved loss of money. Working with 7-Eleven Malaysia allows us to reach more consumer at their most convenient place and method of shopping, as a result securing more people against cyberattacks. It is also our way of reaching out to more Malaysians, making it easier to purchase a security solution to protect their mobile devices and their data online," he adds.
"We are constantly on the lookout to offer the best rewards for our loyal customers when shopping at our stores. Aside from the day to day convenient items and making payments for utilities, the option to also have cyber protection made for their PC & smartphones are also available exclusively at our stores – making this a destination of choice for convenient shopping anytime and everywhere," said Chin Hor Wai, General Manager Marketing, 7-Eleven Malaysia.
Until February 28, 2023, 7-Eleven customers in Malaysia can redeem one-month protection for free through the My7E loyalty app. Present the redemption code at the 7-Eleven Malaysia outlets to obtain the activation PIN. The Kaspersky Total Security is compatible with Windows, macOS, Android and iOS.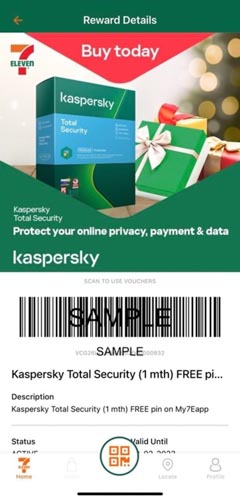 My7E app downloads link: https://onelink.to/99uskh
To enjoy the best that year-end shopping has to offer this year, Kaspersky also has the following safety recommendations:
Protect all the devices you use for online shopping with a reliable security solution. Do not trust any links or attachments received by mail; double-check the sender before opening anything.
Double-check e-shop websites before filling out any information: is the URL correct? Are there any spelling errors or design bugs?
In order to protect your data and finance, it is best practice to make sure the checkout page is secure, and that there is a locked padlock icon beside the URL.
If you want to buy something from an unknown company, check reviews before making any decision.
Despite taking as many precautions as possible, you probably won't know something is amiss until you see your bank or credit card statement. So, if you're still getting paper statements, don't wait until they hit your mailbox. Log in online to see if all of the charges look legitimate – if not, contact your bank or credit card company immediately to fix the situation.