Hand over heart, remind yourself of all the things that make Malaysia great this Merdeka
Kuala Lumpur, 19 August 2021 – What are Malaysians best known for? Apart from being kind, generous and patriotic, we are also a people who love food, be it local, international or fusion. This Merdeka, celebrate our National Day with some great flavours from The Coffee Bean & Tea Leaf® (CB&TL) and the chance to demonstrate our generous nature once more by supporting homegrown business Saffron & Serai that puts people and planet first.
"This August is the perfect time to pause and reflect on all the things we love about Malaysia. On the heels of the Olympics and the passionate displays of national pride, we invite all our customers to celebrate everything that makes Malaysia such a beautiful nation," said Fiona Rodrigues, Head of Sales & Marketing, The Coffee Bean & Tea Leaf® Malaysia.
"As a brand, we have grown with the nation for 24 years, and have supported many local organisations, from the Malaysian Nature Society to Malaysian Systemic Lupus Erythematosus Association. This month, as we take this opportunity to inject a little sweetness in our lives and lift our spirits as a nation, we invite our customers to support Saffron & Serai, a local brand that merges Malaysian crafts with contemporary style. Their efforts to reduce waste and encourage a more sustainable lifestyle lies very close to our hearts, and we hope for all Malaysians to support every effort towards reducing their carbon footprint in small, everyday steps. Remember, a simple gesture makes all the difference for small businesses, so we can all continue to stay strong, in solidarity with fellow Malaysians," she added.
Inject some style into your kitchen by using the beautiful and reusable batik beeswax wrap from Saffron & Serai in place of disposable plastic wrap. It looks so much better and you'll want to keep them for years to come! This brand takes pride in its Malaysian identity by presenting traditional crafts in sustainable and contemporary solutions to reduce waste while supporting local artisans and marginalised communities. From 26 August, for a limited time, their Batik Beeswax wraps (M, L and XL sizes, from RM65-RM75), are available online at www.coffeebean.com.my and at selected CB&TL outlets across Malaysia* – you can even take-away a bagel, muffin or scone using these lovely wraps. For fans across Malaysia, simply visit their website, www.saffronandserai.com, to check out their wraps and more eco-friendly home inspirations.
*Bangsar Shopping Centre, Shoplex Mont' Kiara, Ampang Point, Sinaran TTDI, All Seasons Place (Penang) and Taman Eko Botani (Johor).
"It's a privilege to share our products with CB&TL customers. We firmly believe that everyone can do their part, from reducing plastic waste to incorporating zero waste practices and upcycling, so we can reverse the effects of our single-use habits and leave behind a healthier planet for generations to come. It's a journey, not a destination, and we hope to make many new friends on this journey towards more sustainable living," said Iman Preece, Founder of Saffron & Serai.
Finally, as we fly our beloved Jalur Gemilang this Merdeka, don't miss the celebratory flavours of The Warisan (RM12.95 per slice, RM50 for petite and RM129.30 for a whole cake), a scrumptious combination of gula melaka, cendol bits and rich red beans combined in a yummy cake, and the refreshing Butterfly Pea Lemonade Cold Brew Tea (RM13.55-RM15.05) as a sweet or sparkling beverage that's as pretty to look at as it is delicious.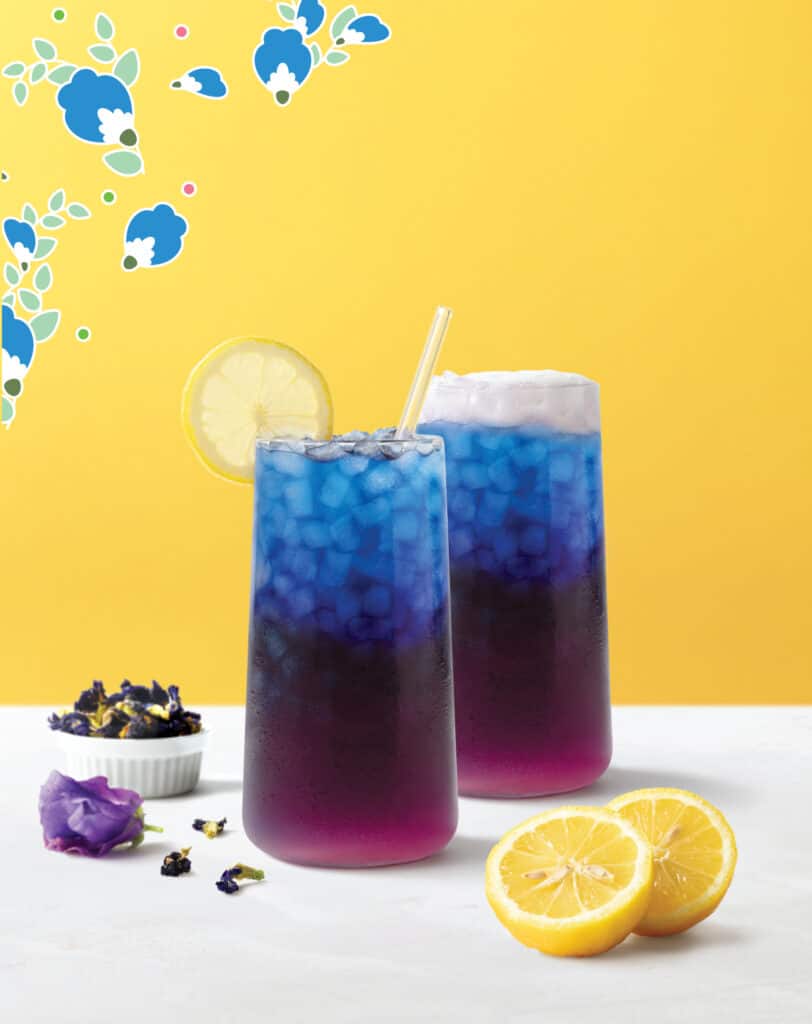 Lastly, don't miss these great bundle promotions – check out CB&TL's Instagram for full terms and conditions.
· Chill Bundle: Get Two Chill Beverages for only RM25, from 17-27 August 2021
· Merdeka & Malaysia Day Bundle 1: Get Three (3) 12oz The Original Ice Blended® beverages for RM31, from 28 Aug – 19 September 2021
· Merdeka & Malaysia Day Bundle 2: Get One (1) Selected 12oz Cold Brew Beverage and One (1) Spicy Bagel Chicken Bun for only RM16, from 28 Aug – 19 September 2021
For the latest promotions, menu items and more, visit the CB&TL Instagram account @coffeebeanMY, Facebook page, www.facebook.com/CBTLMalaysiaPage and website www.coffeebean.com.my.