The platform aims to create lasting synergy between medically-qualified doctors and pharmacists while ensuring that walk-in customers at pharmacy locations receive the best possible care, consultation, and medical dispensation service at one location
Customers have the option of scheduling appointments with healthcare professionals either on-demand or ahead of time
Ascen Plus Pharmacy will be launching its 9th and 10th outlets at The Five Damansara Heights and Bangsar respectively in the second quarter of this year
Kuala Lumpur, 1 June 2022 – Ascen Plus Pharmacy today announces the launch of Malaysia's first e-clinic service platform built to cater specifically to the medical needs of walk-in customers. Aiming to ensure that these customers receive accurate prescriptions based on reliable medical consultation, the in-pharmacy platform provides access to virtual on-demand medical consultations from doctors, on top of base services like replenishing drug prescriptions.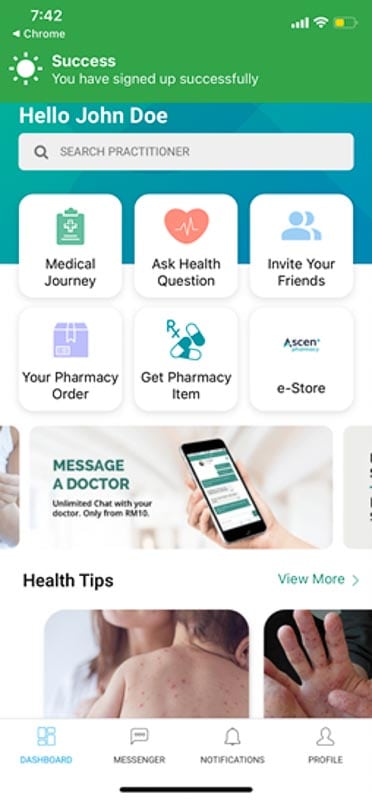 In collaboration with its medical partners, Ascen Plus Pharmacy aims to be the first pharmacy in the nation to efficiently address any medical concerns that Malaysians might have, while creating lasting synergy between medically-qualified doctors and pharmacists for a more holistic healthcare ecosystem.
"Today, Malaysians are facing inconveniences in terms of time and cost when navigating medical consultations and the inaccurate diagnoses and prescriptions that follow. Very often, physical consultations with doctors to obtain the right diagnoses and the appropriate prescriptions are costly and time-consuming. On the other hand, merely visiting a pharmacist to replenish an existing prescription could prove detrimental if a patient's dosage requires altering- something that can only be determined by a doctor. To make matters worse, there is still a common misconception among Malaysians regarding the role that doctors and pharmacists play when ensuring the overall health and well-being of patients, meaning many patients are still confused as to the right party or channel to consult regarding health-related matters," said Leslie Cheng, Executive Director of Ascen Plus Pharmacy.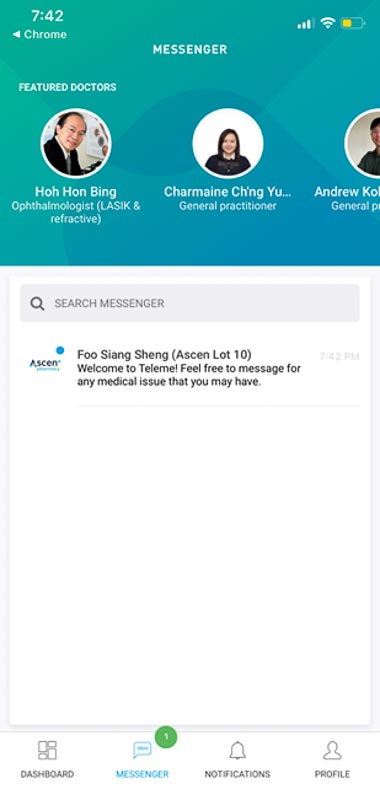 Providing a one-stop medical solution for Malaysians, Ascen Plus Pharmacy's new e-clinic service offers walk-in customers with two main services- on-demand remote consultations from medically qualified doctors and prescription management. This eliminates the need for patients to split their time between doctor consultations at the clinic/hospital and pharmacy visits separately, making the healthcare process more affordable, convenient, and seamless. Providing on-demand, virtual access to medically qualified doctors who are on standby for remote consultations at any Ascen Plus location, the service ensures that patients are properly diagnosed before medications are e-prescribed to be dispensed by licensed pharmacists on the spot.
Furthermore, the platform aims to create stronger synergies between general practitioners and pharmacists so that clear distinctions can be made to ensure a smoother, more holistic healthcare ecosystem that prioritizes the health of the public. By bridging the gaps between these two roles, the platform aims to reduce the rate at which patients receive mistaken diagnoses or prescriptions, pay exorbitant medical fees, and go through further inconveniences at the expense of their health. The platform removes the blindfold and leads patients down a correct and transparent path, making e-consultations with doctors that are necessary possible and omitting the process when pharmacists are able to provide the necessary treatment.
The service is also aimed to be as accessible by the community as possible, at a rate of as low as RM 10, patients can gain access to the e-consultation service on Ascen Plus Pharmacy's e-clinic platform.
Ascen Plus Pharmacy's 9th and 10th Outlet Opening
In conjunction with the announcement of its e-clinic service platform, Ascen Plus Pharmacy is also announcing the opening of its 9th and 10th outlets at The Five Damansara Heights and Jalan Telawi, Bangsar, right next to myBurgerLab respectively. Ascen Plus Pharmacy will be celebrating the inauguration of its 10th outlet at Bangsar with multiple limited-time offers and freebies to be taken home with any purchase of their products (T&C applied). As part of the brand's efforts in building and nourishing the health of Malaysians, Ascen Plus Pharmacy is also giving out DIY Mushroom Kits to participants and guests attending its outlet launch on the 14th of June. This kit will also be available as a free gift upon purchase of Ascen Plus Pharmacy products for an entire month, so customers interested in growing their own mushrooms at home can also visit their Bangsar branch within the month to obtain the kit. To find out more about Ascen Plus Pharmacy, please visit https://ascenpluspharmacy.com.my/.