The Caped Crusader visits fans in the Klang Valley and across the region with interactive pop-up events
MALAYSIA, 1 March 2022) – Excitement is ramping up for the theatrical release of The Batman in Malaysia and across the region. From March 1-20 at Sunway Pyramid's Ground Floor Water Feature, The Batman Experience – and interactive pop-up – invites fans to immerse themselves in Gotham City, from Wayne Mansion to Batman's Cave.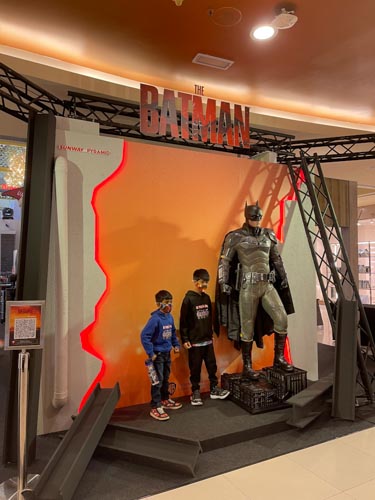 Enthusiasts will get to recreate their own movie poster with the movie's distinctive red-and-blue lighting, test their riddling skills for the chance to enjoy a cup of The Riddler-inspired coffee, and participate in other games and activities that will test their knowledge of the Caped Crusader's world. To complete the experience, enjoy Batman cosplayers, be amazed by the intricate Batman Wayang Kulit, browse limited-edition movie merchandise and stand the chance to win a life-sized figure of The Batman himself.
In the three days leading up to the movie premiere, join Batman in his fight against Gotham City's most villainous and watch out for the iconic Bat Signal which will appear at 7pm over Sunway Pyramid on March 1, Sunway Putra on March 2 and KLCC/Bukit Bintang on March 3.
Vikram Sharma, Head of Consumer Products, Advertising & Partnerships, WarnerMedia India, Southeast Asia & Korea, said: "With the support of our local and regional partners, our high-profile Batman-themed attractions will be an experience to remember for super hero fans as they look forward to one of this year's biggest DC blockbusters."
The pop-up events are also happening in Singapore with the support of Singapore Tourism Board, and in Vietnam.
In addition to DC, WarnerMedia is home to brands and franchises including Harry Potter and the Wizarding World, HBO, Cartoon Network and Warner Bros.
To catch more of the caped crusader, stream more than 33 Batman-related titles on HBO GO.
Follow DC Asia social channels on Facebook, Instagram and YouTube, and the hastag #DCTheBatman.
The Batman premieres in cinemas internationally, including Korea on March 1, Indonesia and Philippines on March 2, and in Singapore, Taiwan, Thailand and Malaysia on March 3. The movie opens in India, Vietnam and the US on March 4.