Amway Malaysia welcomes over 4000 leaders and partners to its biggest ever National Leadership Event
Kuala Lumpur, 29 June 2022 – Amway Malaysia's most anticipated event of the year, the National Leadership Conference and Dinner (NLCD) saw the gathering of over 4,000 Amway Business Owner (ABO) leaders from Malaysia, Singapore and Brunei for its first physical event after a two-year hiatus.
The event was filled glitz, glamour, fun and excitement with ABO leaders all dressed to impress, as they mingled and enjoyed a Paris Inspired Haute Couture evening The annual NLCD, a celebration to commemorate the efforts by the ABO leaders, witnessed their coming together in high spirit to celebrate their achievements as they take an entrepreneurship journey one notch higher while propagating a healthy lifestyle.
After two years of hiatus, Mike Duong, Managing Director of Amway Malaysia, Singapore and Brunei said, "For two consecutive years, Amway leaders participated in the annual Virtual National Leadership Conference ("VNLC") from the safety and convenience of their homes. This year, we are very excited to finally reunite with everyone in person again. Furthermore, this is the biggest ever leadership conference hosted by Amway Malaysia with over 4,000 ABO leaders and business partners physically here, along with 500+ joining us virtually. These top ABO leaders' mentor, service, and support almost one million customers and new entrepreneur seekers who made building the Amway business and healthier choices their personal goal.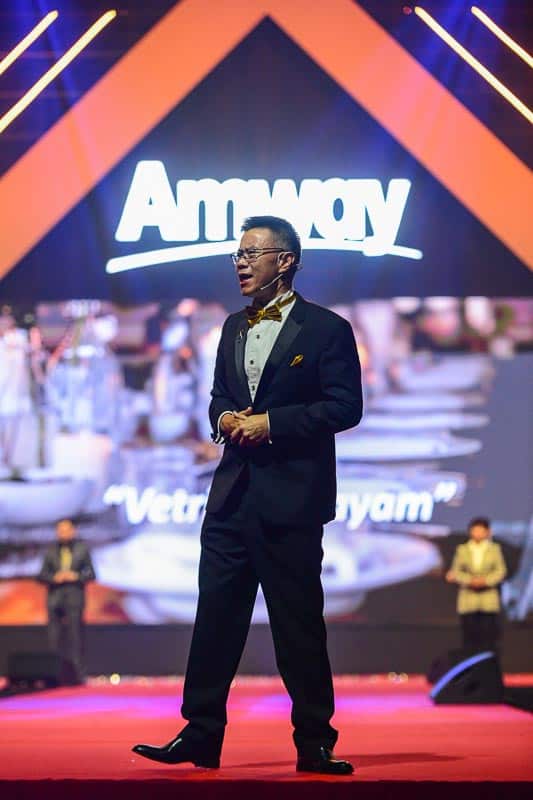 We are also excited to share the destination for Amway Leadership Seminar (ALS) 2023 will be Paris – The City of Love and for Diamond Invitation (DI) 2023 will be Queenstown – The Adventure Capital of The World. Riding on the announce of ALS 2023 Paris destination, the MITEC convention hall was transformed to showcase Parisian landmarks, and monuments such as the Eiffel Tower, Arc de Triomphe, and other prominent attractions. Attendees to the annual NLCD were entertained to an exciting evening with a variety of performances and delicious cuisine.
The highlight of the night was a Paris Inspired Haute Couture Fashion Show curated by Starz Secret. Models strutted the runway adorning pieces from a wide array of fashion brands namely, CA Jewelry & Accessories, a Paris-themed brand; and Crisathena, a French luxury brand that creates beautifully sculptured timepieces. The celebration was further hyped with an outstanding performance by Dennis Lau, a renowned Malaysian-born musical prodigy and award-winning electric violinist and Kit Lam, a fresh talented singer and actor from Hong Kong.
For the first time ever, award winning Qatar Airways, renowned hospitality groups: Pavillion Group as well as Marriott International, along with luxury watchmaker Crisathena collaborated with Amway Malaysia to give attendees amazing lucky draw prizes. Amway Malaysia is a leading Health and Wellness company that created income opportunities through entrepreneurship. To date, Amway has close to 900,000 ABOs and Amway Privileged Customers (APC) that contributed to the growth of Amway. Amway continues to help people live better, healthier lives by strategically and prudently investing in specific areas including ABO and APC-centric incentive programmes, product innovation and promotions, health-centric communities, as well as ease of doing business via digital platforms.