HiFruityBox – Frozen Fruit Mix aims to provide people with their daily nutrient needs without hassle
Subscription service offers 7 variants for a fruity mix of flavours including Wild Berries C Booster, Tropical C Booster, Calming C Booster, Banana, Avocado, Pineapple and Mango
3 nutritionist pre-mixed fruit blend options offer additional Vitamin C benefits to promote a healthy immune system
Prices start from RM149.99 for 1 set of nutrition pre-mixed which comes with 3 bags of frozen fruit varieties
Kuala Lumpur, 20 April 2022 – HiBlendr, the local lifestyle brand and innovators of the portable and lightweight Juice Cup Pro blenders are revolutionizing the local lifestyle and wellbeing scene once again with the launch of Malaysia's first-ever frozen fruit subscription service – HiFruityBox. The all-new product, designed with enhanced convenience in mind, is set to be the perfect companion to HiBlendr's highly popular blender series.
"After hearing all the feedback from our customers, we found out that a lot of our customers actually are too busy to get fruits for their everyday consumption. We've decided to make our customer's life even easier by pre-mixing things up and introducing our brand new frozen fruit bags – HiFruityBox, which will allow our customers to save more of their time and enable them to try out different combinations of drinks, smoothies and shakes. With this new product, preparing a healthy intake has never been easier, tastier and as varied!" stated Andrew Poh, Founder of HiBlendr.
The HiFruityBox comes in 7 different variants including 3 specially crafted fruit mixed that provide much-needed Vitamin C that helps boost immunity. The 3 are named Wild Berries C Booster, Tropical C Booster, Calming C Booster.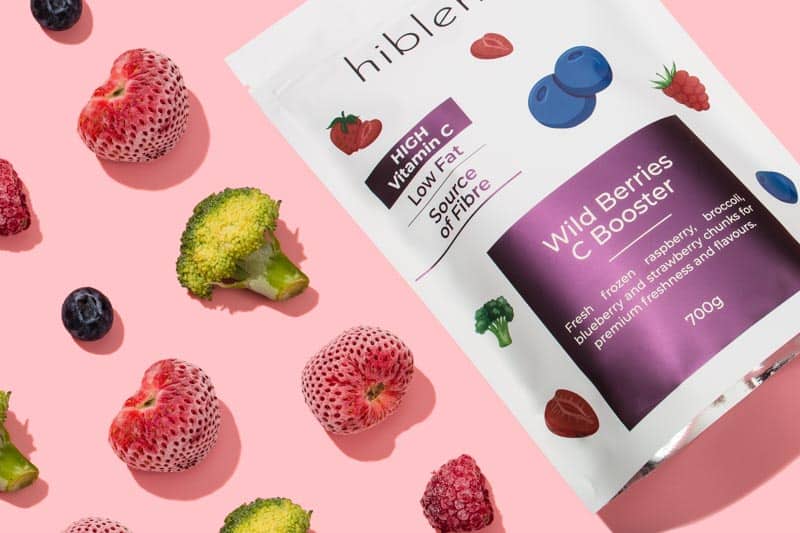 In the Wild Berries C Booster, consumers can look out for fresh frozen raspberries, broccoli, blueberries and strawberry chunks for premium berrylicious goodness. Consumers who favour tropical fruits instead can look forward to the Tropical C Booster flavour that includes pineapples, mangoes, carrots and kiwi chunks providing a delicious mix of tart and tangy. Last but not least, the Calming C Booster is for consumers that prefer a mix of mangoes, bananas, carrots and avocado, giving consumers a creamy, filling and nutritious option.
The remaining 4 HiFruityBox are speciality single fruit selections consisting of high quality frozen fruits including Banana, Avocado, Pineapple, and Mango. These single fruit bags contain prime succulent chunks of their respective fruits that aim to provide consumers with a good source of low fat, high fibre, fat-free and high in Vitamin B6.
With the HiFruityBoxs, consumers need not worry about the hassles of getting their own fruits or scouting for the best options. Each bag comes packed with immense flavour, containing premium grade fruit chunks that are sorted and, in the case of the 3 special flavours, pre-mixed and packed in a convenient ziplock bag. All the fruits in HiFruityBox were frozen at the precise ripeness to ensure its nutrients, flavours and freshness are locked in the bag.
"Based on our research, 3 out of 4 Malaysians suffer from at least one form of nutrient deficiency due to hectic lifestyles and busy schedules. An everyday Malaysian is used to not having the time to prepare healthy food for themselves before and after work, thus we tend to prefer mamak and fast food over fruits and vegetables, sacrificing a healthy, balanced diet for the sake of time and convenience. Knowing this, we came up with a brand new product to ease the practice of at least incorporating a healthy drink into their diet. This is by attaining 3 important factors which are convenience, quality and variety" added Andrew.
Each ziplock bag is filled with fruit chunks containing essential nutrients such as Vitamin C, potassium, and folate, accompanied by the flavourful goodness extracted from fruits and vegetables. It is no secret that fruits and vegetables are paramount to maintaining a healthy gut, preventing constipation, improving skin condition, reducing the risk of heart disease, stroke, and certain types of cancer.
A single portion of HiFruityBox Mix Frozen Fruit will help you to meet the nutritional needs of a normal, healthy adult. Combined with the Juice Cup Pro consumers can enjoy even greater convenience ensuring that more time is spent on productivity and less is wasted on the tedious preparation process.
HiFruityBox is currently available in the Klang Valley only, single purchases of the nutrition pre-mixed set start at RM149.99, while monthly subscriptions will give consumers a 10% discount on the monthly fee. Customers can purchase the HiFruityBox at https://hiblendr.com.my/hifruity-box/. To find out more, please visit HiBlendr's website at https://hiblendr.com.my/ or their Facebook page at https://www.facebook.com/hiblendr/.