Sunway City Kuala Lumpur, 17 November 2022 – 42 Kuala Lumpur (42KL) hosted its inaugural tech conference themed "Cultivating Malaysia's Next-Gen Tech Talents" with the support of Sunway Education Group, the Jeffrey Cheah Foundation, Sunway iLabs, Malaysia Digital Economy Corporation (MDEC), Asian Strategy & Leadership Institute (ASLI) and Majlis TVET Negara (MTVET). This conference brings together industry leaders, educators, student leaders and other stakeholders to share experiences and gain insights on the opportunities and challenges in the tech and education sphere.
42KL is a coding school that has zero fees with no teachers, classrooms or tuition. First launched in Paris and now with campuses around the globe, the 42 programme is first in the world to offer peer-to-peer learning with a project-focused and gamified approach for tech education. Students do not need to provide any certifications and academic transcripts. The only requirement needed is for students to be above the age of 18 years old.

This year's theme "Cultivating Malaysia's Next-Gen Tech Talents" dives into some of the key obstacles to digital transformation in Malaysia which includes the need for more highly-skilled tech talents and more gender diversity in the industry. Asia is supercharged with emerging technologies in areas such as 5G, cloud computing, artificial intelligence, big data and the Internet of Things. It is transforming the world of work and widening the digital divide between the needs of the industry versus the current skills and capabilities of talents.
The conference was hosted at Sunway University and it featured two (2) panel sessions with the following speakers:
Panel 1: "Peer-to-Peer Learning as a Skill Set" with Alexandra Perrin, Chief Pedagogical Operating Officer of 42, Kularetnam Vijayakumar, Programme Manager, Yayasan Tunku Abdul Rahman and Bunyod Shamsiddinov, 42KL Cadet.
Panel 2: "Future of Tech is Equality" with Managing Director of 42, Sophie Viger, Chua Chai Ping, Human Resources Director and Country Site Leader of Experian and Lennise Ng, Chief Executive Officer of Dropee.
Peer-to-Peer Learning as a Skill Set
Along with the many initiatives put forth between the public and private sector, academia is one of the many ways to move the needle in building a sustainable tech talent pipeline for Malaysia's digital dream. The panel discussion highlights how peer-to-peer approach to learning is a lifelong and transferable skill set in any setting. Peer-to-peer learning is when one or more learners teach other learners, creating a reciprocal and engaging learning environment.
In his closing remarks, Prof Abhimanyu Veerakumarasivam, Provost of Sunway University shared that, "The openness to explore other learning approaches in education could pave a way in cultivating skill that could bridge the gap of talents going into the workforce. More exploration and recognition need to be given to the peer-to-peer approach to learning as it helps build foundational skill sets such as self-learning, collaboration and communication. It is great to be a part of Sunway Education Group disrupting the current methodologies of learning with the 42KL campus that has no teachers, classes or tuition in their programme"
As echoed by Prof Dato Dr. Elizabeth Lee, Chief Executive Officer at Sunway Education Group, "At Sunway Education Group, we want to be in the forefront of future proofing the landscape of education by implementing innovative educational models to push boundaries like what 42KL is doing. The revolutionary model in which 42KL operates welcomes individuals with all walks of life to participate in. This is also a testament to our commitment to the 17 Sustainable Development Goals (SDGs), adopted by the United Nations in 2015."
Future of Tech is Equality
According to Malaysian Digital Economy Corporation (MDEC), the percentage of women in the technology field stands at 35 percent in 2021. Women continue to be outnumbered in this largely male-dominated field. The importance of having gender diversity in the industry is paramount to having greater innovation, collaboration and productivity. Companies with gender diverse teams are shown to be more adaptable and have greater cross-collaboration of ideas due to the broader spectrum of experience and mentality.
"Globally, we have over 47 campuses across 26 countries and we have accepted 15,000 students worldwide. Since our establishment in 2013, we champion the values of social inclusion and equal chances to all, regardless of age, gender, religion, culture or geography. Diversity in talent is fundamental to greater performance, creativity and innovation, in not just the tech field but all fields of the industry", said Sophie Viger, Managing Director of 42.
She continued, "We look ahead and beyond in maximising our efforts to welcome more female talents by engaging more open dialogues with our global neighbors and partnering with organisations and experts that empower women into tech. And, not forgetting to always shed light and celebrate women that have broken barriers in the field".
At 42KL, the programme is made up of 250 students to date ranging from 18 to 30 years old, with 30% of female participation which is higher than the average percentage in the 42 network of campuses globally.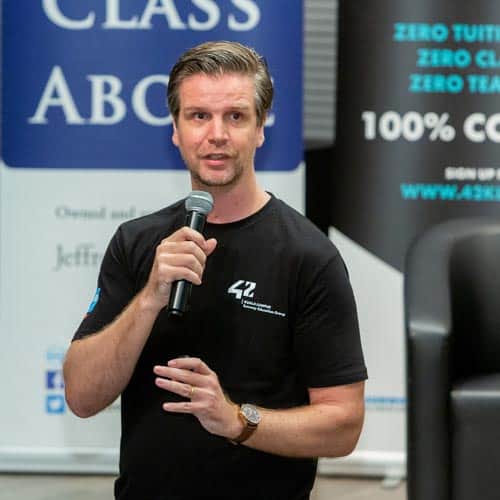 Matt van Leeuwen, Chief Innovation Officer of Sunway Group and Director of Sunway iLabs shared "Our journey thus far would not been possible with the support of our partners such as Sunway Group, CIMB, DHL, Roland Berger, Carsome, Huawei, HSBC, SIDEC, Standard Chartered, FWD Insurance, Tenaga Nasional Berhad, Experian Malaysia and Frasers Group, who share the same nation-building agenda as 42KL in building a strong talent pool of skilled tech talents and providing multitude of career pathways to potential talents. With this, we look forward to more opportunities to collaborate with key industry leaders to further strengthen the digital ecosystem in Malaysia".
To learn more about 42 Kuala Lumpur's programme, please visit www.42kl.edu.my. We are open to welcome more industry partners interested in developing and recruiting Malaysia's top tech talents.